Peperomia Varieties
Peperomias at a Glance
There are over 1000 species of peperomias worldwide, where they are found in virtually every tropical and sub-tropical region. Common names include radiator plant, baby rubber plant and shining bush plant. In cultivation, peperomias make cute houseplants because of their attractive foliage. The leaves come in a myriad of colors and patterns and are generally thick and glossy. They make great starter houseplants because of their hardiness and low maintenance requirements.
Peperomia Care Information
Peperomias are generally low maintenance and easy to care for. Maintenance is usually just a spring time pruning to keep its shape. For the most part Peperomias tend to remain pest free but they are susceptible to the usual houseplant pests such as mealybugs and spider mites. The most common issue is overwatering which can result in root rot, leaf curling and leaf drop.
Peperomia Requirements
Water: Low. Lean more to the dry side. Constantly wet roots can lead to fungus & root rot.
Soil: Best in loose, well drained soil.
Humidity: Peperomias do best with average to high humidity.
Toxicity: Peperomias are considered pet friendly plants.
Propagation: Best by cuttings.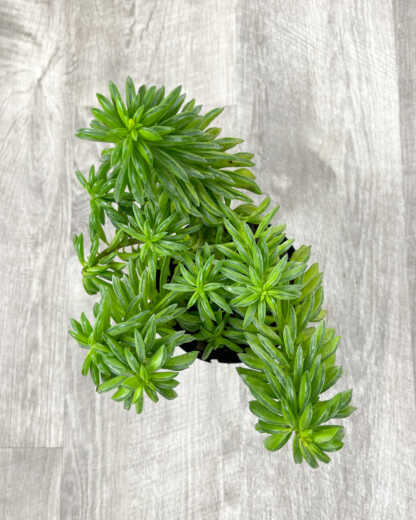 Axillaris Peperomia
Although it may resemble a succulent, this slow growing plant is a peperomia. The interesting foliage has tones of dark and lime green shaped like a taco - thus it's common name the Taco Plant. Maxing out at 10", it makes a perfect plant for small spaces with moderate light. Occasionally pinch the tips to keep a compact shape.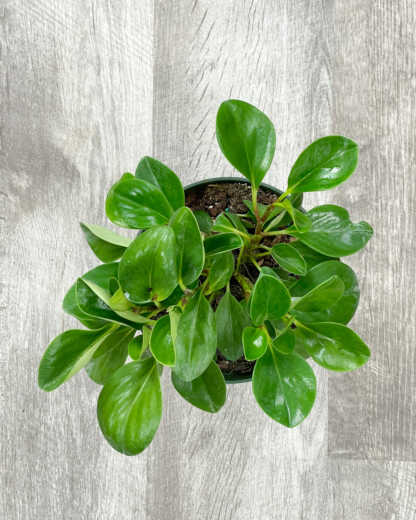 Baby Rubber Plant
Botanical name: Peperomia obtusifolia
This thick, succulent-like peperomia is one of the easiest houseplants, making it ideal for beginners. Native to the Americas, it is popular worldwide because of how easy it is to grow and care for. The dark green, thick, fleshy leaves is its main attraction. This plant typically grows to 12" indoors but can reach up to 18" when grown outdoors in warmer climates. Outdoors it makes a great bedding plant when planted in masses. Baby rubber plants look great on tables, windowsills, shelves and desks; or as an groundcover for a taller plant.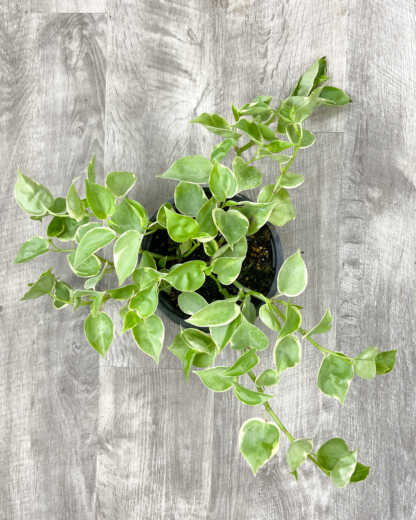 Cupid Peperomia
Botanical name: Peperomia scandens 'Variegata'
This trailing form makes a bright indoor cascading plant. It looks especially beautiful in hanging baskets or on a shelf. This variegated peperomia is called cupid because of its cute heart-shaped green & cream leaves. It can grow up to 4ft long.
Frost Peperomia
Peperomia Frost has patterned leaves are similar to Peperomia Watermelon but are frosty white with green veins. Native to the Brazilian jungles, it grows to about 12" tall. The color and shape of this cute mounding plant will make a good complement to darker plants on a shelf, windowsill or even by itself.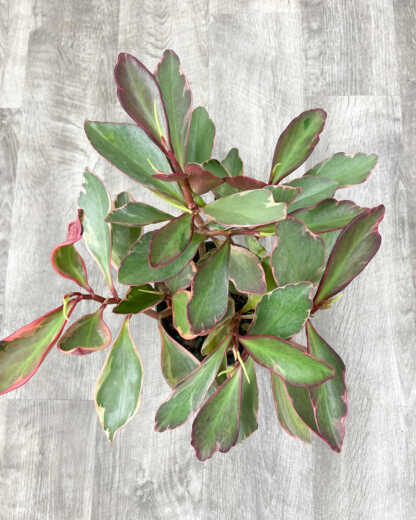 Ginny Peperomia
Botanical Name: Peperomia clusiifolia
With its large tri-color leaves covered with greens, creams and pinks, Peperomia Ginny is a definite eye-catcher. Sometimes called Rainbow Peperomia or Tricolor Peperomia, this variety has larger leaves than most other peperomia houseplants and grows to about 12 inches tall. Use it anywhere with bright indirect light to add a splash of color.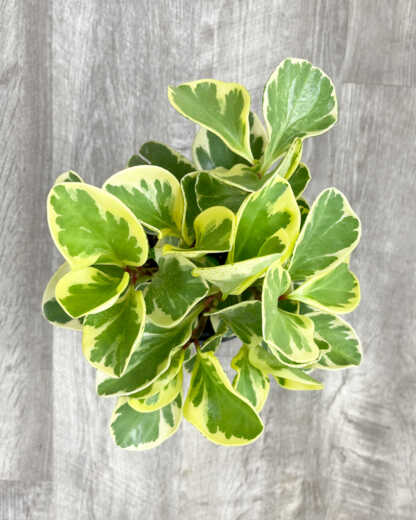 Marble Peperomia
Botanical name: Peperomia obtusifolia 'Marble',
Peperomia Marble's brightly colored foliage give a pop of color to indoor spaces with medium to bright indirect light. Essentially a variegated baby rubber plant, it shares many characteristics of the green variety including its drought tolerance and low maintenance care. Outdoors in warmer climates, its green, cream and yellow foliage make a spectacular bedding plant. They max out at around 14" indoors but can get to about 18" outdoors.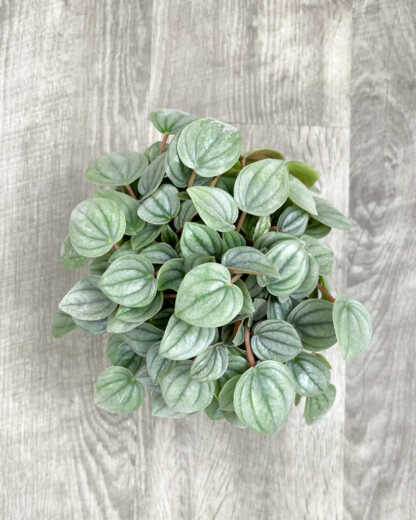 Napoli Nights Peperomia
Peperomia Napoli Nights is a beautiful, stylish yet unassuming peperomia variety. Its silvery foliage with dark veins has a very modern & trendy vibe. Because of its miniature size (about 10" tall), it can be placed anywhere with bright, indirect light. Originally from Bolivia, this is a striking plant that looks good in any décor.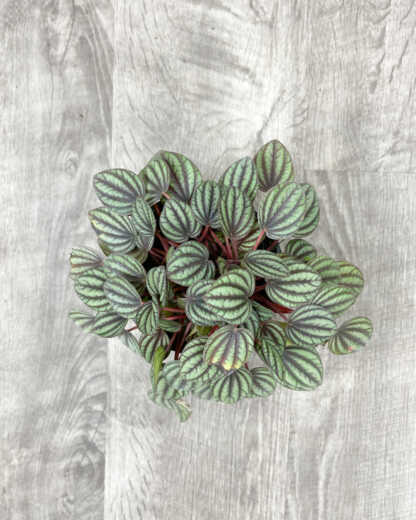 Piccolo Banda Peperomia
Botanical Name: Peperomia Albovittata
This cute, little peperomia has attractive silvery-green leaves. Its small leaves and compact size (hence the name "piccolo"), makes it a great plant for desks, tables and shelves. Peperomia Piccolo Banda requires very little water and maintenance, making it a good plant for beginner plant enthusiasts. Thick stems add a pop of red. The inconspicuous flowers appear on long stalks which can get up to 18" tall making an already attractive plant even more interesting.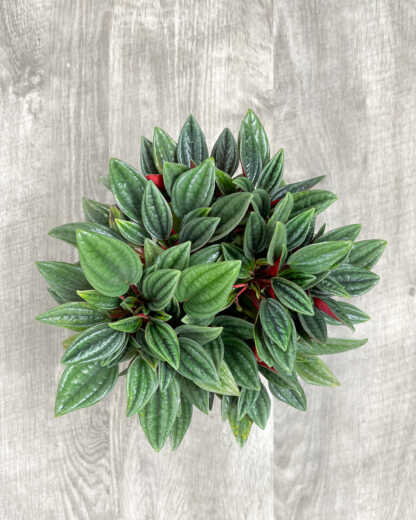 Rosso Peperomia
Botanical Name: Peperomia 'marmorata x metallica'
Another Eden hybrid, Peperomia Rosso is like a slightly larger version of San Marino. Sometimes called Emerald Ripple Pepper or Radiator Plant, these beautiful peperomias look good in any space. The mature size is around 8" tall with leaves around 1.5" to 2" long. Those leaves feature green leaves with dark, deep veins.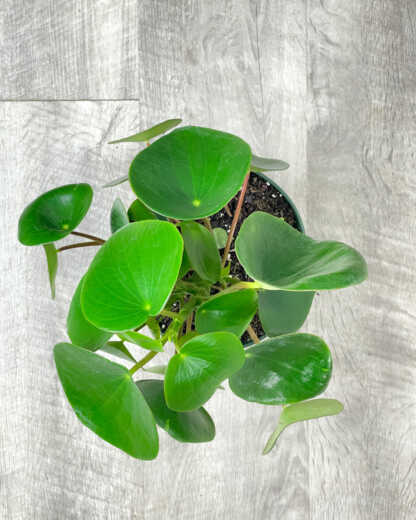 Raindrop Peperomia
Botanical Name: Peperomia polybotrya
Known for its raindrop shaped leaves, the Raindrop Peperomia is an ideal houseplant. This compact plant grows no bigger than approximately one foot and is also fairly easy to care for!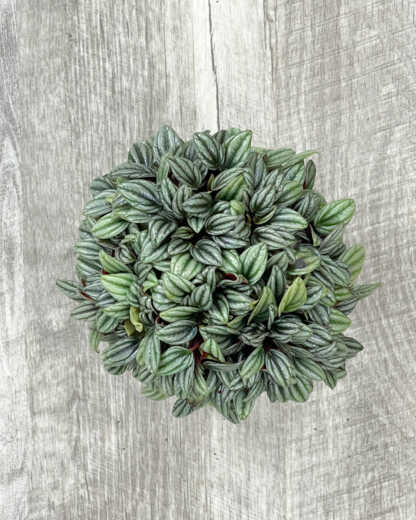 San Marino Peperomia
Botanical Name: Peperomia 'marmorata x peruviana'
Peperomia San Marino is a Dutch hybrid from Eden Collections featuring pretty greyish-green leaves with dark green veins. Flowers rise above the plant on dark red stalks adding a level of drama to the plant. This diminutive, slow growing cultivar grows to roughly 8" tall an about a foot wide. It closely resembles the Peperomia Rosso but with lighter green and smaller leaves.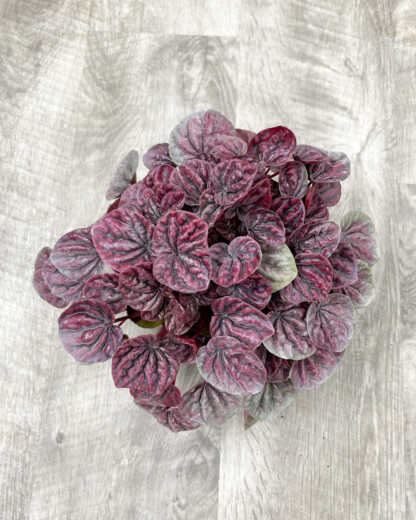 Schumi Red Peperomia
Botanical Name: Peperomia caperata 'Schumi Red'
This gorgeous peperomia is one of the rarer ones and is a real show stopper with its vibrant foliage. Peperomia 'Schumi Red' has scalloped, heart shaped leaves which contains shades of maroons to deep red to black. This easy to grow mounding plant gets to only about 12" tall, making it ideal for desk, counter-tops or any small space. It does best in well lit areas.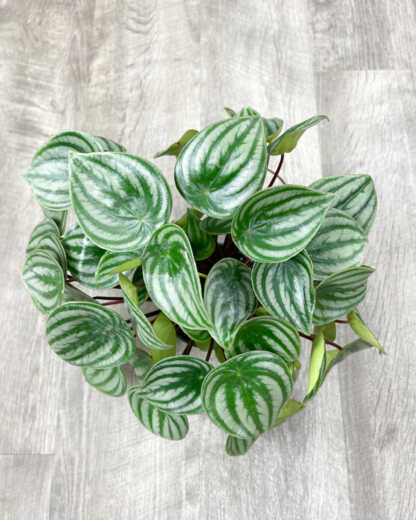 Watermelon Peperomia
Botanical Name: Peperomia argyreia
This gorgeous peperomia is one of the most popular peperomia houseplants. A South American native, it's prized for its attractive foliage with striking green and silver stripes. The contrasting red stems are attached to the middle of the leaves, adding to its quaint appeal. Growing to about 8 to 12 inches tall, it is ideal for shelves, desks and tables.