Tropical Hibiscus Varieties
Hibiscus at a Glance
The Tropical Hibiscus is a fast-growing shrub that can grow up to two feet per year and can reach a maximum height of 10 to 15 feet at maturity. The tropical hibiscus produces near year-round blooms of its bright and distinctive trumpet-shaped flowers. It is easy to care for and will thrive either indoors with substantial light, in a pot on a porch or patio, or planted as part of your home landscaping. The flowers are even edible and is popular as a medicinal natural tea after being boiled.
Hibiscus Care Information
Botanical name: Hibiscus rosa-sinensis
Light:  Bright, direct sunlight to partial shade.
Water: Hibiscus require a lot of watering, two to three times per week.
Soil: Well-draining and lightweight soil.
Humidity: They do best in high humidity conditions but will tolerate average humidity.
Propagation: Can be propagated by stem cuttings.
Toxicity: Not toxic.
For complete Tropical Hibiscus Care Instructions, click here.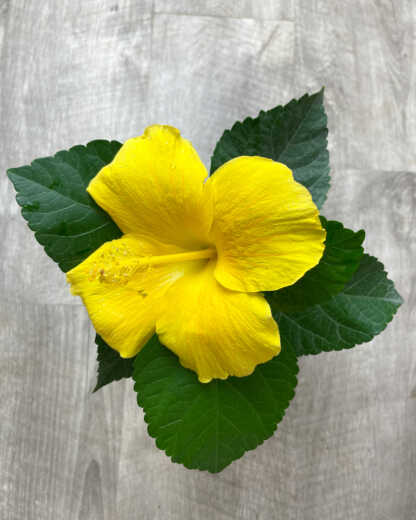 Tropical Hibiscus 'Yellow'
Say 'Aloha' to the official state flower of Hawaii! Although it can be mainly be found growing on the Hawaiian Islands, the yellow hibiscus is one of the more popular of the variations of the species because of its bright yellow flowers that can instantly light up a porch or well-lit living room.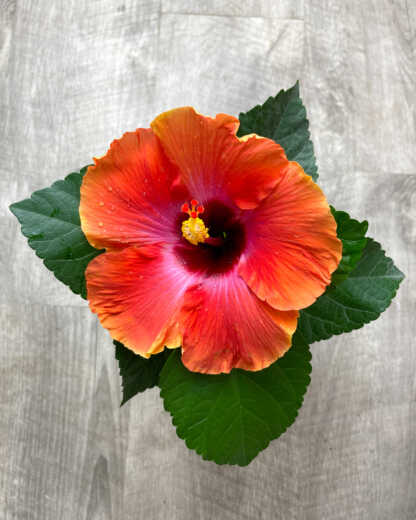 Tropical Hibiscus 'Fiesta'
Put a party on your patio with the Fiesta Hibiscus. The 'Fiesta' cultivar is characterized by its flowers that have petals that go from pinkish orange to yellow as the petals span out making it fun and colorful addition to your hibiscus collection.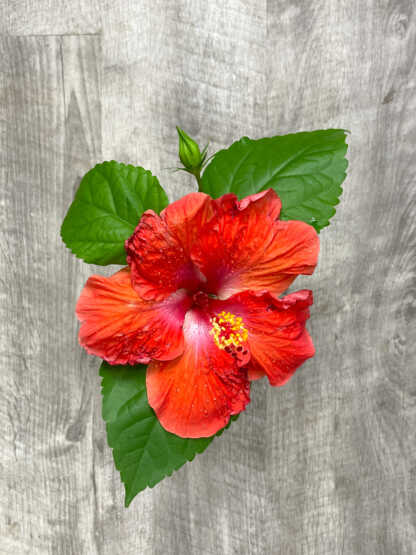 Tropical Hibiscus 'Red'
The Red Hibiscus is the go-to for those looking to add a hibiscus to their plant collection. The simple yet stunning red flowers will bloom year round, providing a constant source of joy.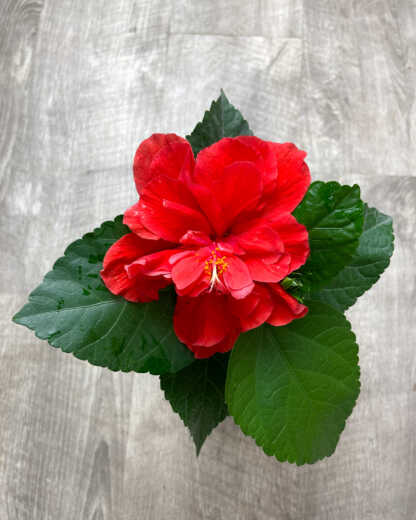 Tropical Hibiscus 'Double Red'
If you love the 'Red' hibiscus variety, you can take it to the next level with the 'Double Red' varietal. The 'Double Red' cultivar is characterized by flowers that go from deep to bright red towards the edge of the petals with a full red pistil protruding from the center.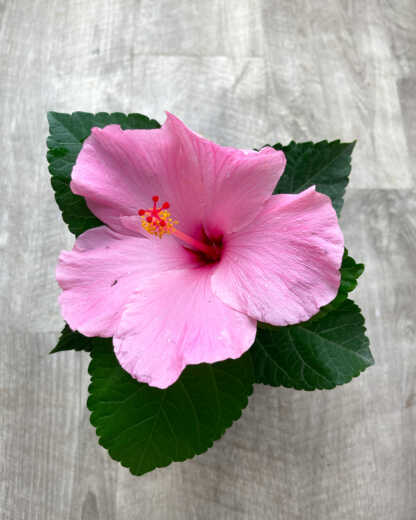 Tropical Hibiscus 'Pink'
The 'Pink' hibiscus, sometimes referred to as the Painted Lady variety, is characterized by its vibrant pink flowers that can reach 8 to 10`` in diameter. Its bright color also makes it a great hibiscus option of you are trying to attract pollinators such as butterflies to your garden.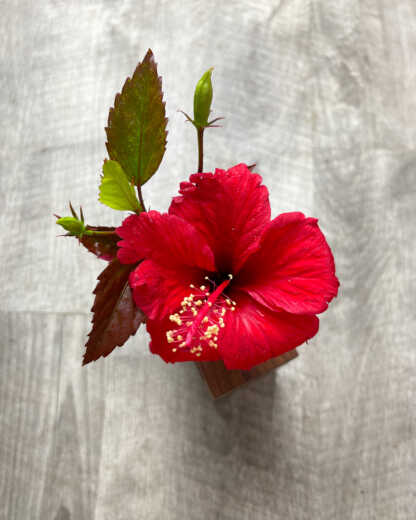 Tropical Hibiscus 'Red Hot'
While hibiscus are generally known for the color of their flowers, the 'Red Hot' variety also has multicolored foliage that includes burgundy, pink and green variegation, to go with its deep red flowers.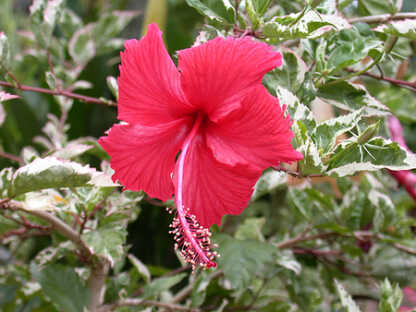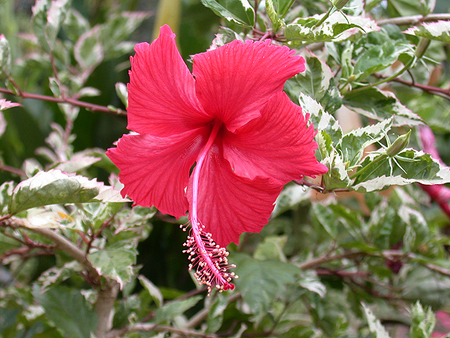 Tropical Hibiscus 'Snow Queen'
Another cultivar that is popular for foliage that goes beyond the deep green of most hibiscus, the 'Snow Queen' variety has variegated leaves that go from green to a yellowish white color as you move toward the edges of the leaves. Along with red flowers that can sometimes take on a purplish hue, gives the 'Snow Queen' a very distinct personality.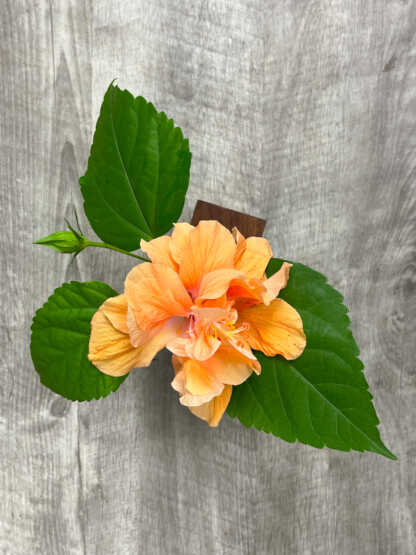 Tropical Hibiscus 'Double Peach/Double Orange'
The 'Double Peach/Double Orange' hibiscus has one of the most beautiful blooms of the tropical hibiscus family as the light orange flowers have multiple layers of ruffled petals that give it its distinctive look.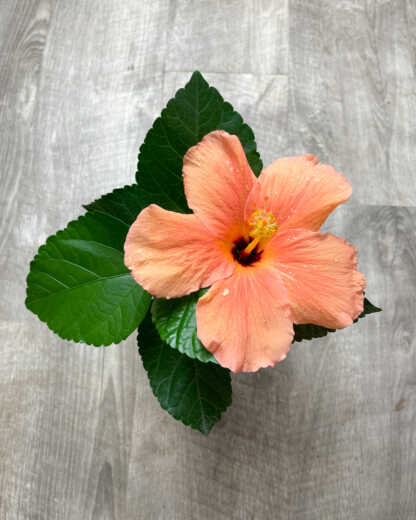 Tropical Hibiscus 'Peach'
Simple and elegant, the 'Peach' variation of the tropical hibiscus is a classic beauty whether kept indoors and out. It also has a reputation of being the best type of hibiscus to make Agua de Jamaica (hibiscus tea) from as it tends to be less tart than the darker flower varieties when it is steeped.
Take 10% Off Your First Order
Sign up for our newsletter and get a 10% off coupon via email.