Darryl's Discoveries
These Specimens are Limited-Time/Limited Quantity
Welcome to my collection of unique plants from the remote corners of our nurseries. I regularly stumble upon some amazing finds – specimens you've probably not seen before, and won't find anywhere else. I'm excited to share my discoveries.
Don't take too long to decide which you want – these beauties go quickly, and they are first-come first-served. We're constantly adding new plants, so check back each week to see what's new.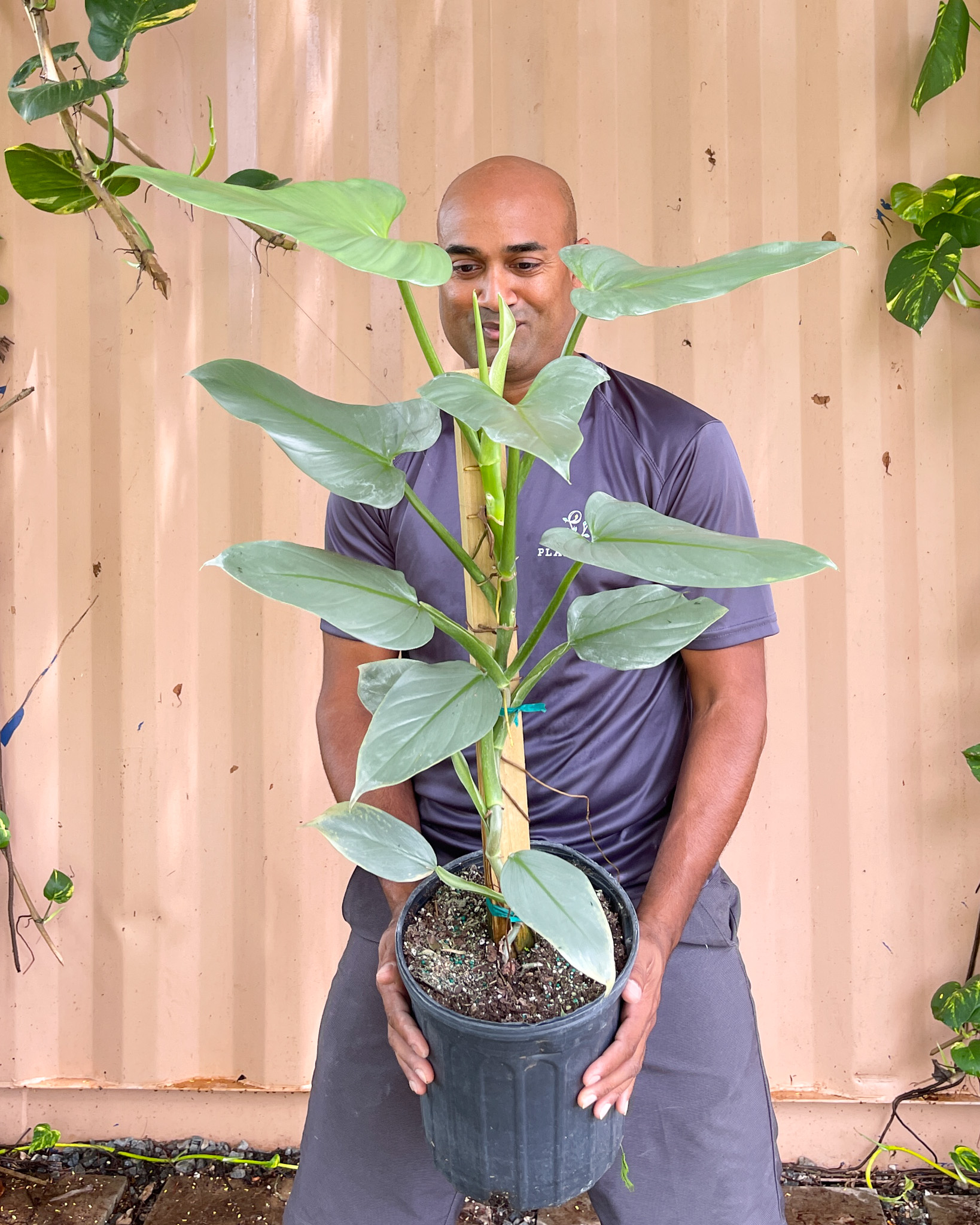 Philodendron Silver Sword Totem
Philodendron Hastatum is an attractive vining plant with bluish-silver lance-like leaves. The foliage on young Silver Sword Philodendrons, as it is commonly called, have a more intense silver hue and sword shape than the mature ones. As the plant matures they become more arrow-head shaped and turn a greener color.
Silver Sword Philodendrons are fast growing Aroids. It's a climbing philodendron which grows faster and develops larger leaves if it has something to climb onto such as a totem pole.
Qty Available: 8
Size: 36" tall in 10" Pots
$

55.00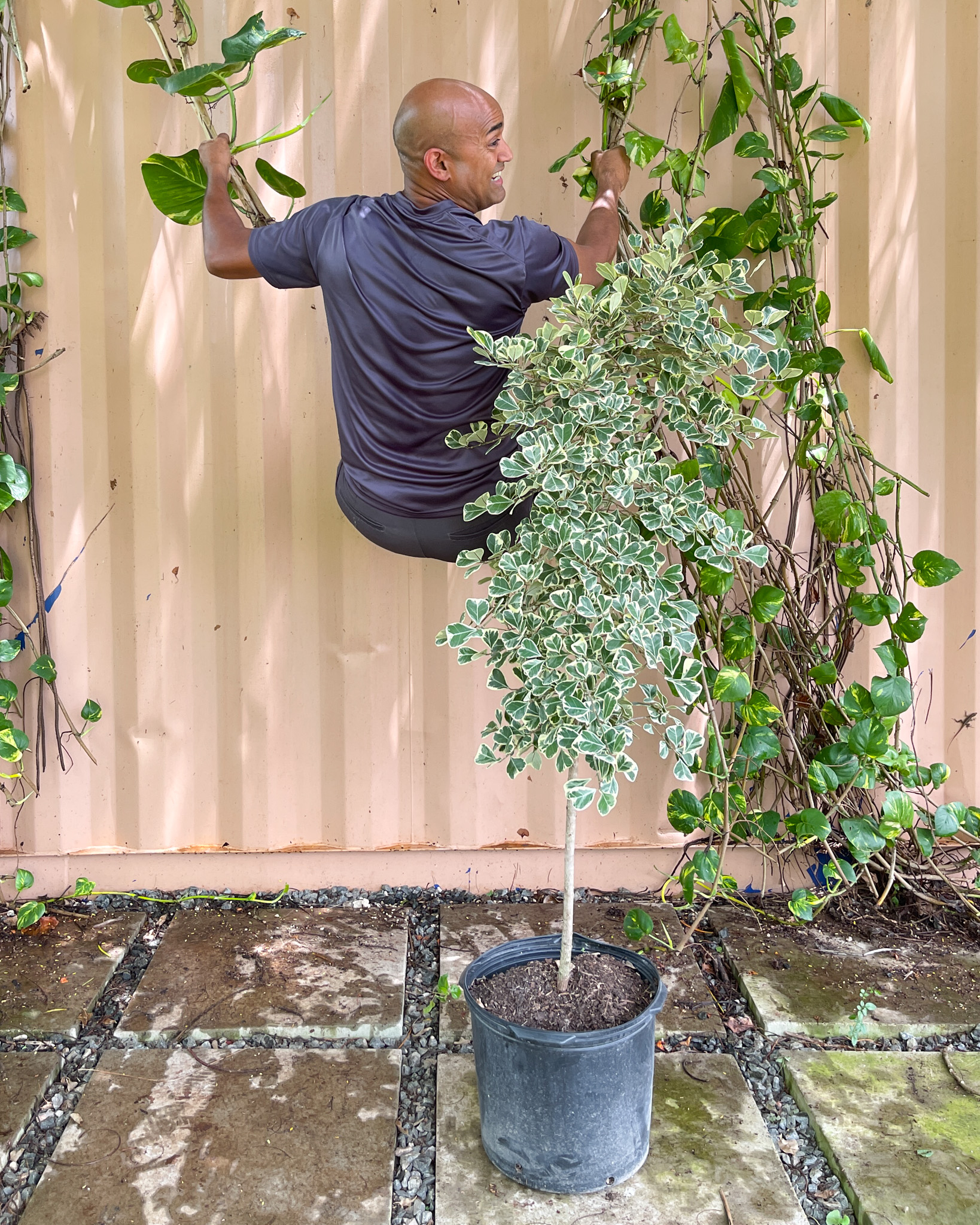 Variegated Ficus Triangularis Tree
Botanical Name: Ficus Triangularis Variegata
They call it Ficus Triangularis Variegata. I like to call it Mini Variegated Ficus lyrata. This cute little South African plant is a stunner! (it isn't a variegated lyrata btw). Although its leaves are only a max of about 2 inches long, they really stand out because of their bright white and cream variegation. The best thing about them? They're low maintenance, easy to grow and compact. This plant will love it in any bright spot in your house, patio or garden. My nursery manager, Flor, was lucky to find a few of these huge trees at one of our growers! Usually they are sold as small shrubs, but save yourself a few years and get one of these giants.
Qty Available: 3
Size: 5 ½ ft tall in 12" pots
$

180.00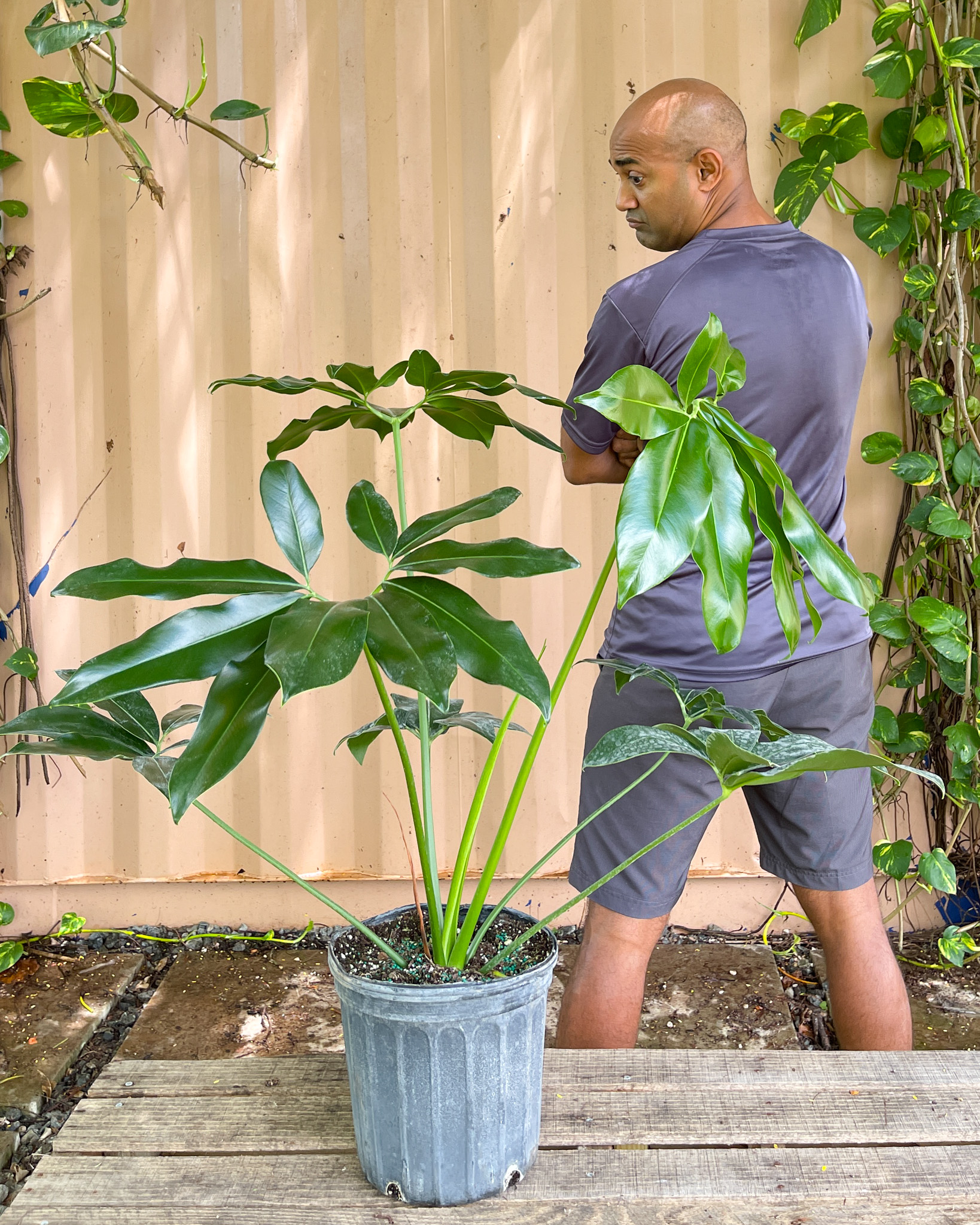 Philodendron Goeldii
As you can see from the scientific name, Thaumatophyllum Spruceanum, the Philodendron Goeldii isn't actually classified as a Philodendron anymore, but old habits die hard. Originating from the South American jungles, Philodendron Goeldii is often referred to as Finger Leaf Plant because of the gorgeous star-shaped foliage which resembles fingers. The leaves are similar to schefflera plants but it can slowly grow a trunk somewhat like crawling philodendrons such as Selloum. Like most philodendrons they like moist, well drained soil and moderate to bright light and do best with higher than average humidity. I don't have many mature specimens at this size, so grab one while they last!
Qty Available: 8
Size: 36" tall in 8" pots
$

55.00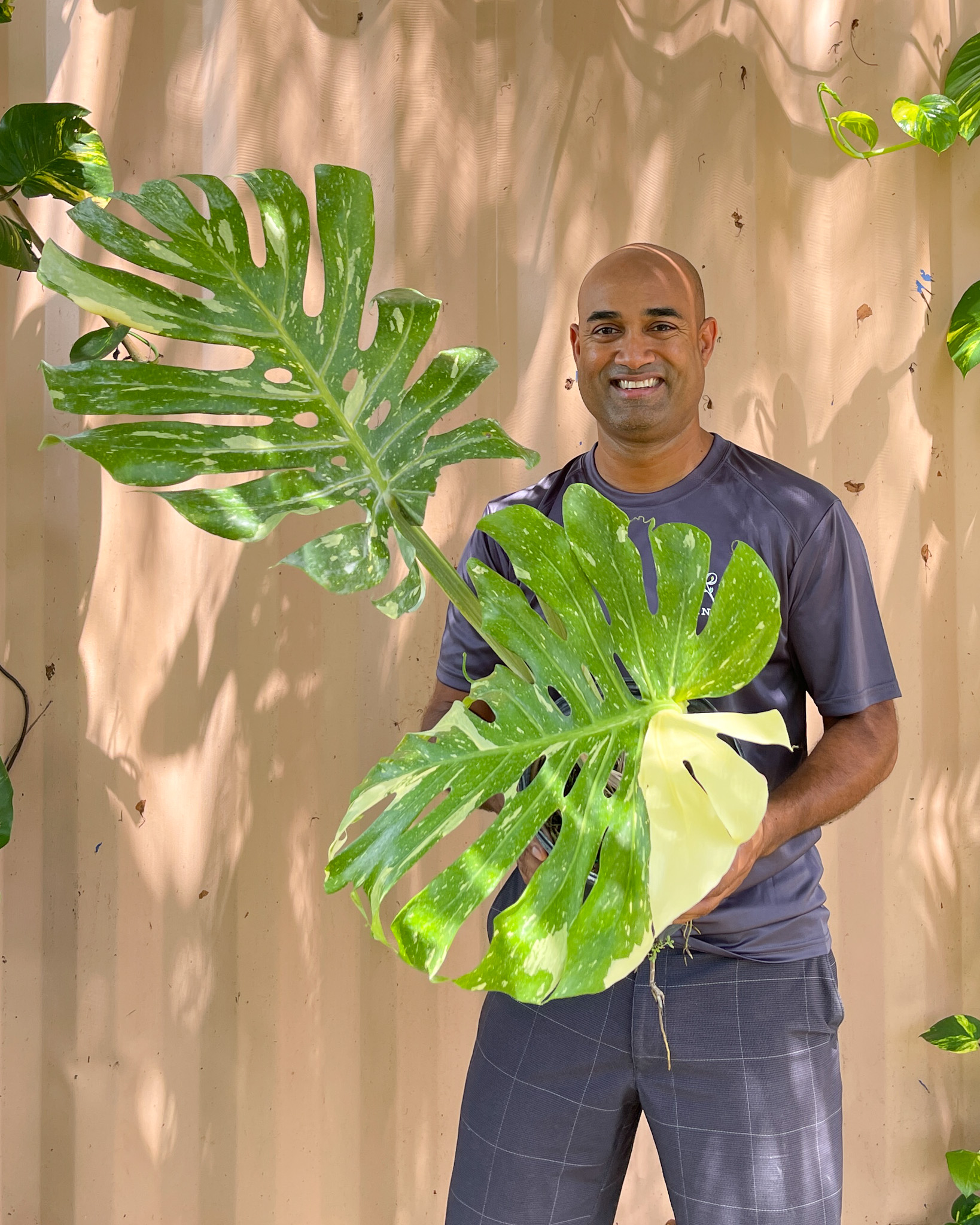 Monstera Deliciosa 'Thai Constellation'
Monstera Thai Constellation is one of the most sought after Monsteras for good reason. It has the most stable variegation of all variegated monstera deliciosas and is relatively easy to grow. The huge Swiss-cheese leaves with their deep fenestrations are a real show-stopper. It gets its name because of the spots of variegation which resemble a star constellation. Because of that high degree of variegation, Thai Constellations don't photosynthesize as well as, and thus require more light than regular Monstera Deliciosas. I've got 6 large, well established plants with large leaves ready to go - which could be at your door in as little as a couple days.
Qty Available: SOLD OUT
Size: 24" – 30" tall in 10" Pots
$

320.00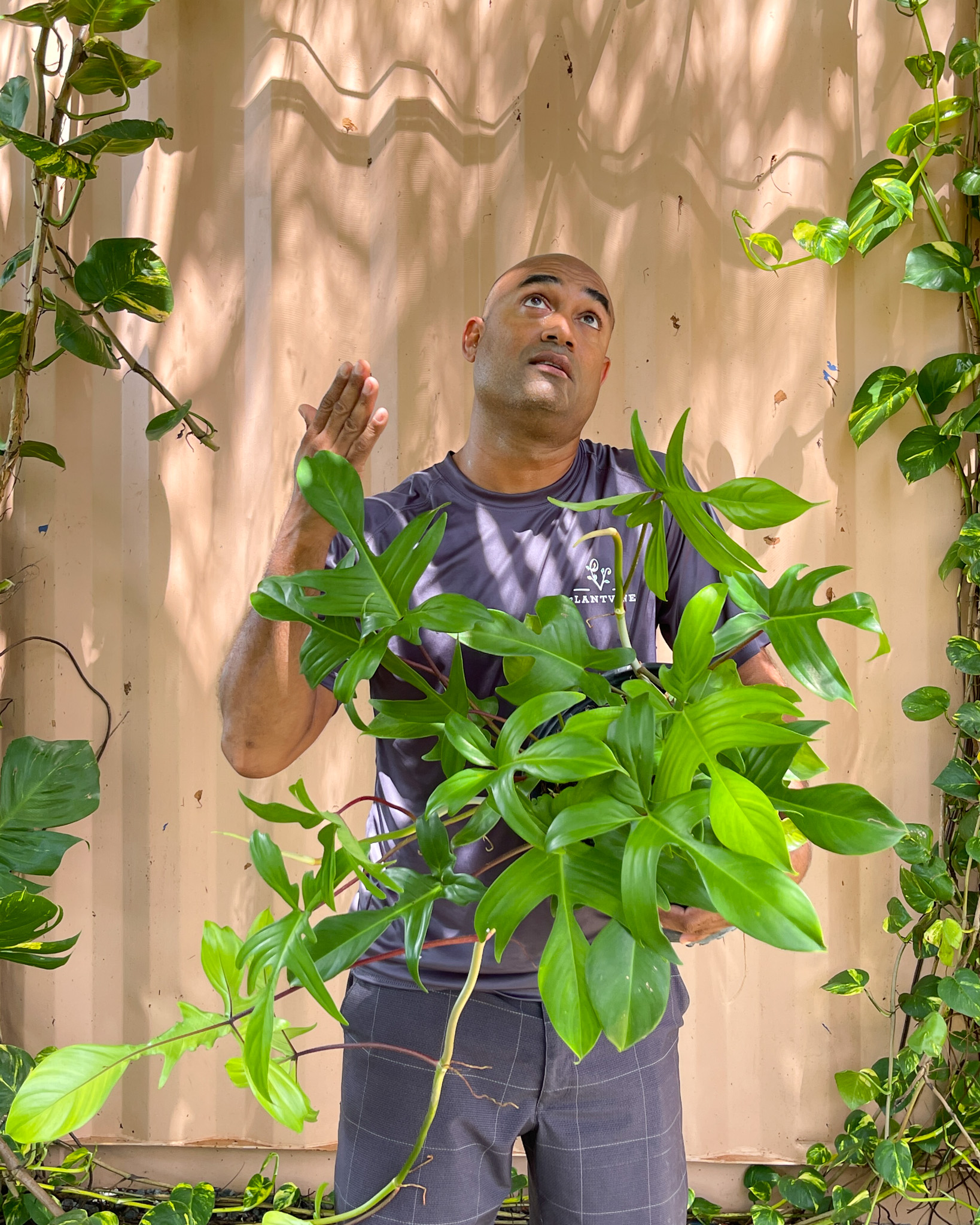 Philodendron 'Florida'
Florida Philodendron is a very cool hybrid with interesting, exotic leaves. Sometimes a new leaf comes out cream then turns yellow, light green and eventually dark green. Its red stems and unusual leaf shape give it a very unique look. This vining philodendron loves something to climb on such as a totem pole.
Qty Available: SOLD OUT
Size: 10" Pots
$

55.00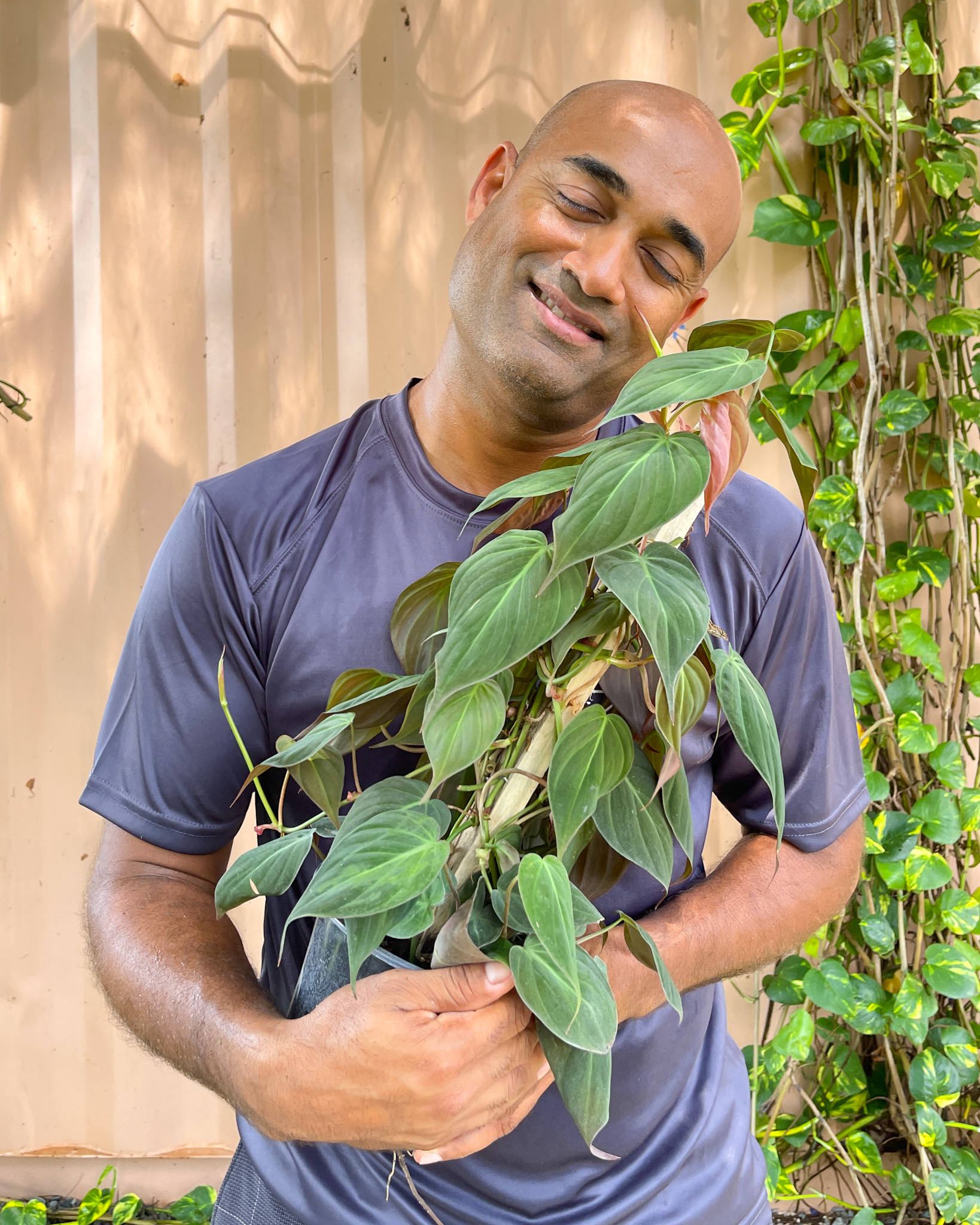 Philodendron Micans – Totem Pole
This highly sought after plant is usually only available as very small plants or cuttings, but these are full,
gorgeous vines attached to totem poles. Originally from Mexico and the Caribbean, these plants are also
referred to as Philodendron scandens. It gets its common name, Velvet leaf philodendron, because of
the velvety feel of its iridescent foliage. And it's the foliage that makes this climber special. At any given
time Micans will have a range of foliage color from deep greens to bronze. New leaves emerge with a
lemon-lime color before transitioning to pink and eventually green.
Qty Available: SOLD OUT
Size: 12" tall totem pole in 6" Pots
$

24.00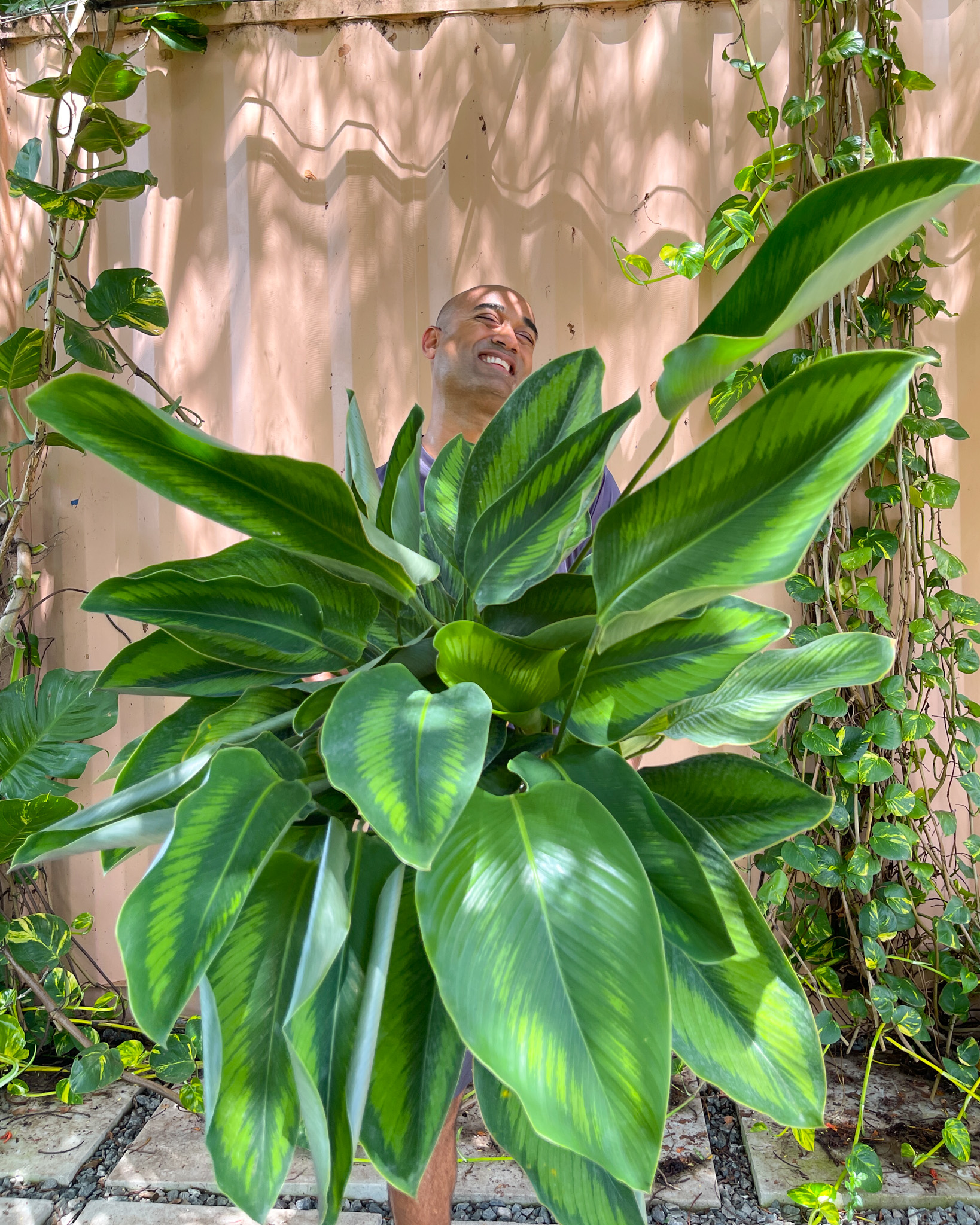 Oversized Calathea Beauty Star
Want a nice, fully grown calathea without having to wait for it to grow (and possibly kill it in the process)? Then grab one of these beautiful Calathea Beauty Star plants at a great price. The tall reddish stems end with elegant striped leaves. The undersides of those leaves usually have a beautiful light burgundy color. These plants typically to about 3ft tall, making these are full-sized specimens!
Qty Available: SOLD OUT
Size: Approx. 42" tall x 36" wide in a 14" pot
$

80.00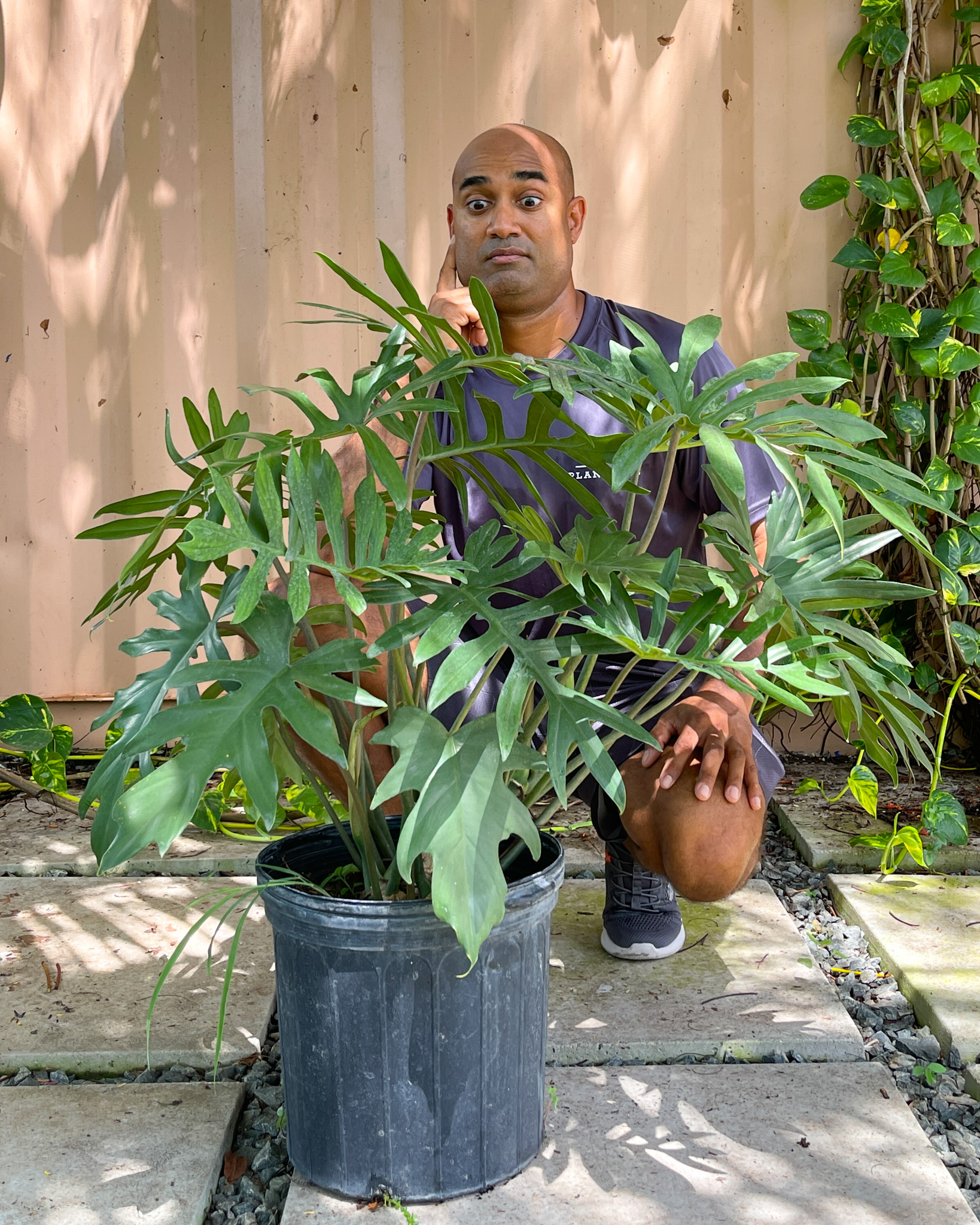 Philodendron Mayoi
These vining philodendrons are native to the Brazilian rainforests. Philodendron Mayoi (or Philodendron Tahiti as they're often called), are sought after for their exotic vibe and large, arching leaves. They make great beginner plants because they're so easy to care for and are relatively pest free. Just keep an eye out for the usual suspects such as thrips. Although it can tolerate a couple hours of direct sunlight, they do best in bright, indirect light. Philodendron Mayoi is considered fairly rare and are usually sold as small plants. I've got 6 large specimens for those of you looking for instant impact or mothers for propagation.
Qty Available: SOLD OUT
Size: Approx. 36" tall x 30" wide in 14" Pots
$

185.00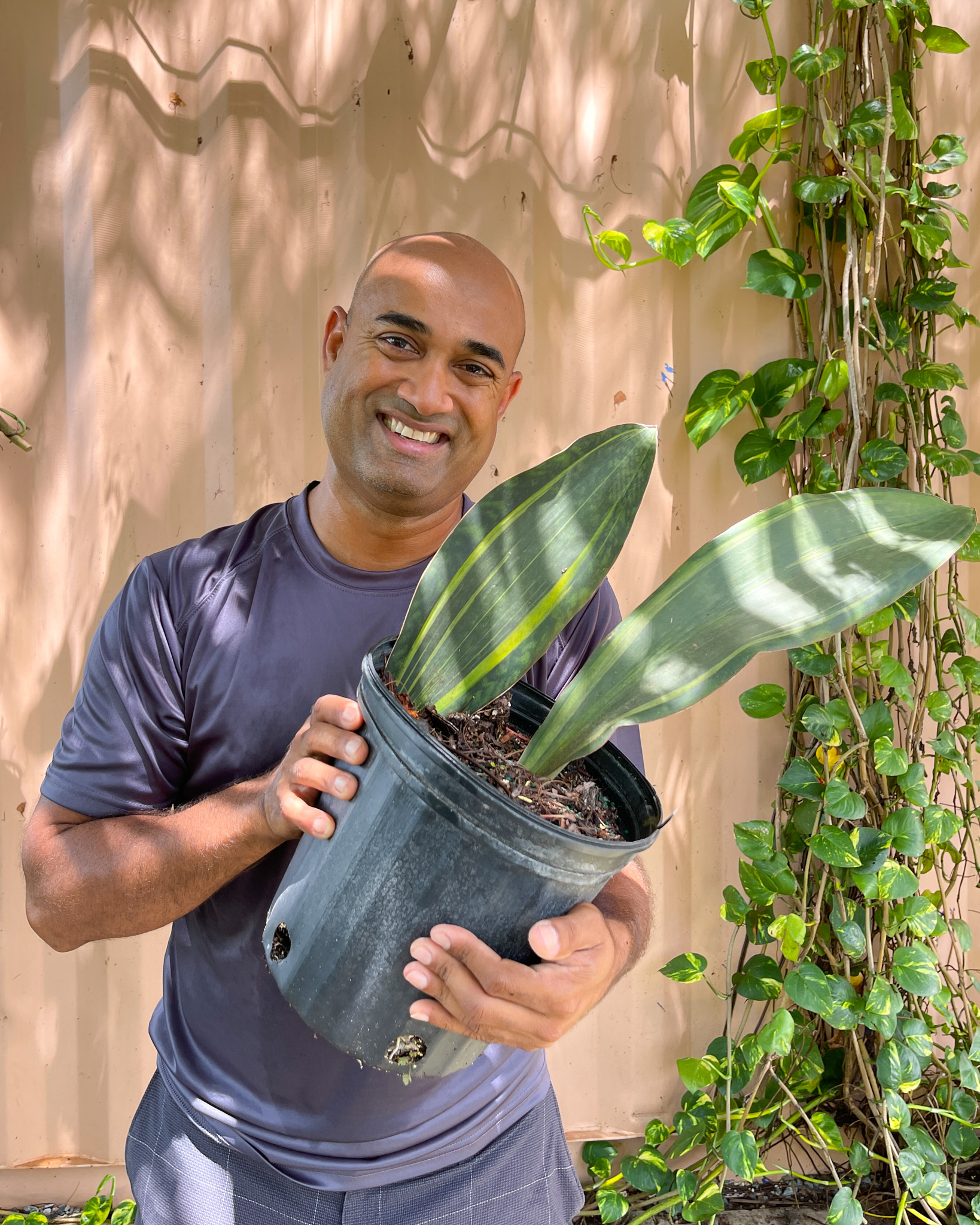 Variegated Whale Fin Sansevieria
Nicknamed the Whale Fin, the Sansevieria Masoniana features uniquely shaped paddle-like leaves. Though slow growing, the Whale Fin can reach a truly impressive size compared to other members of the genus. This rare form of the popular Whale Fin Sansevieria is defined by yellow stripes of varying thicknesses and intensities. You usually find them selling as single leaf cuttings, but our plants are fully rooted and full with 2-3 leaves.
Qty Available: SOLD OUT
Size: 10" Pots
$

80.00
Want early access to PlantVine promotions like Darryl's Discoveries, Luis' Picks and more? Subscribe to our newsletter to receive emails that let you shop these specials before they go on sale to the public.
Join Darryl's Exclusive Email List!
Sign up to get notified via email as Darryl adds new rare finds to his collection.