Darryl's Discoveries
These Specimens are Limited-Time/Limited Quantity
Welcome to my collection of unique plants from the remote corners of our nurseries. I regularly stumble upon some amazing finds – specimens you've probably not seen before, and won't find anywhere else. I'm excited to share my discoveries.
Don't take too long to decide which you want – these beauties go quickly, and they are first-come first-served. We're constantly adding new plants, so check back each week to see what's new.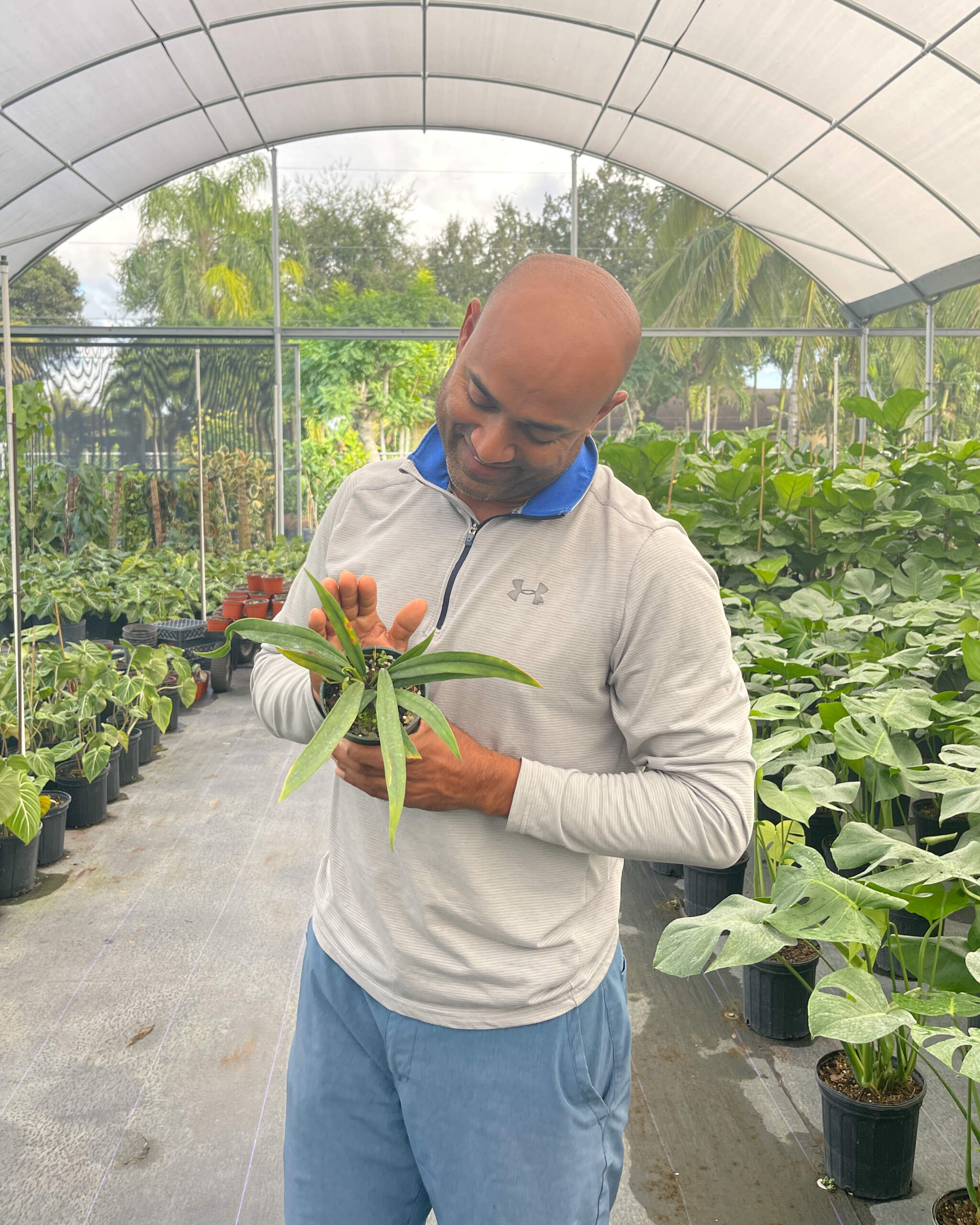 Anthurium Bakeri - Specimen
Baker's anthurium is a semi-pendant epiphyte from the tropical rainforests of Colombia to Guatemala. The fruits of this plant is one of it's main attractions consisting of a long column of flashy orange / red berries. This compact anthurium can produce creamy flowers year-round. The strap-like leaves are long, sometimes with brownish undersides.
This anthurium is prized among collectors.
Qty Available: 4
Size: 6" Pots
$

70.00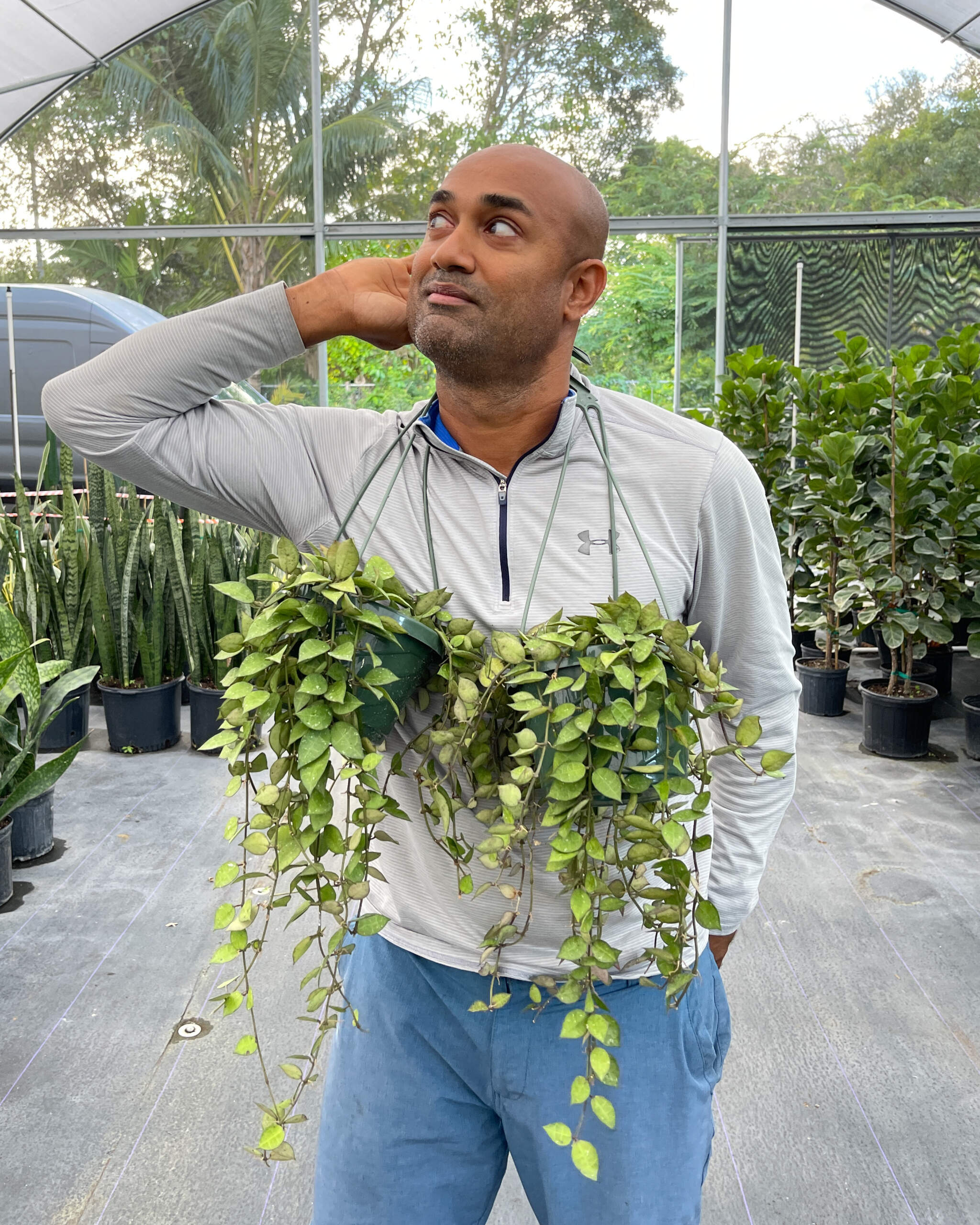 Cinnamon-Scented Wax Plant - Specimen - SOLD OUT
Botanical Name: Hoya Lacunosa
This cute little Indonesian Hoya has small leaves and fragrant flowers. At night the fuzzy white flowers fill the air with a wonderful cinnamon fragrance. This plant does well in hanging baskets with dense trailers; or on shelves where the runners are able to cascade down. It's a great indoor plant which tolerates dry air and low water conditions. One of the more reliable boomers out there.
Qty Available: 2
Size: 6" hanging baskets
$

28.00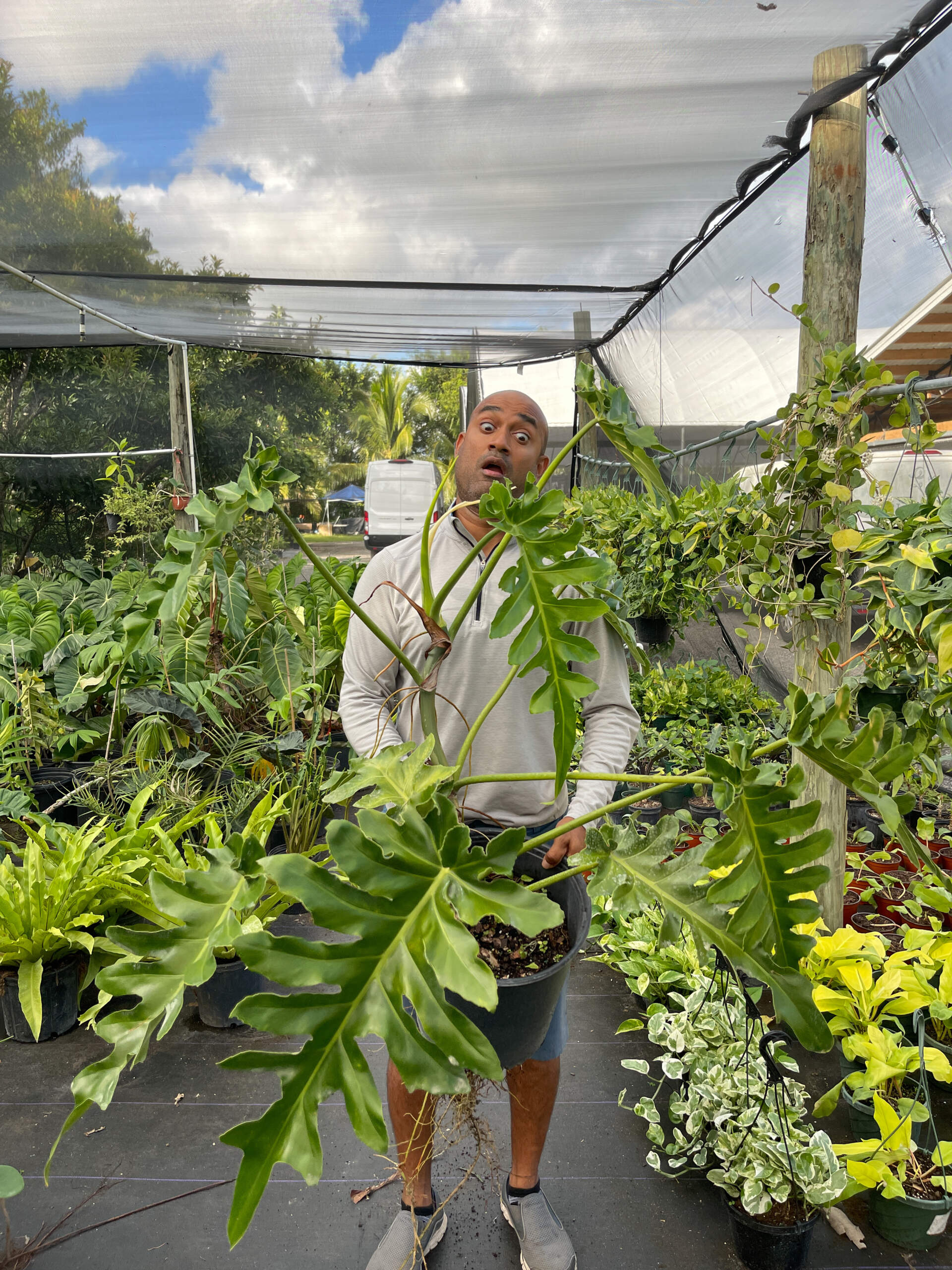 Philodendron Bob Cee - Specimen - SOLD OUT
Named after the late enthusiast Bob Cee, this rare hybrid is one of the lesser known Philodendrons. It is one of the harder philodendrons to find and is sought after by collectors. This climber has large saw-tooth leaves which have an almost prehistoric look. When mature each leaf can reach 3-4ft long! I have one gigantic specimen available for a lucky individual!
Qty Available: 1
Size: 4ft tall x 4ft wide in a 14" pot
$

245.00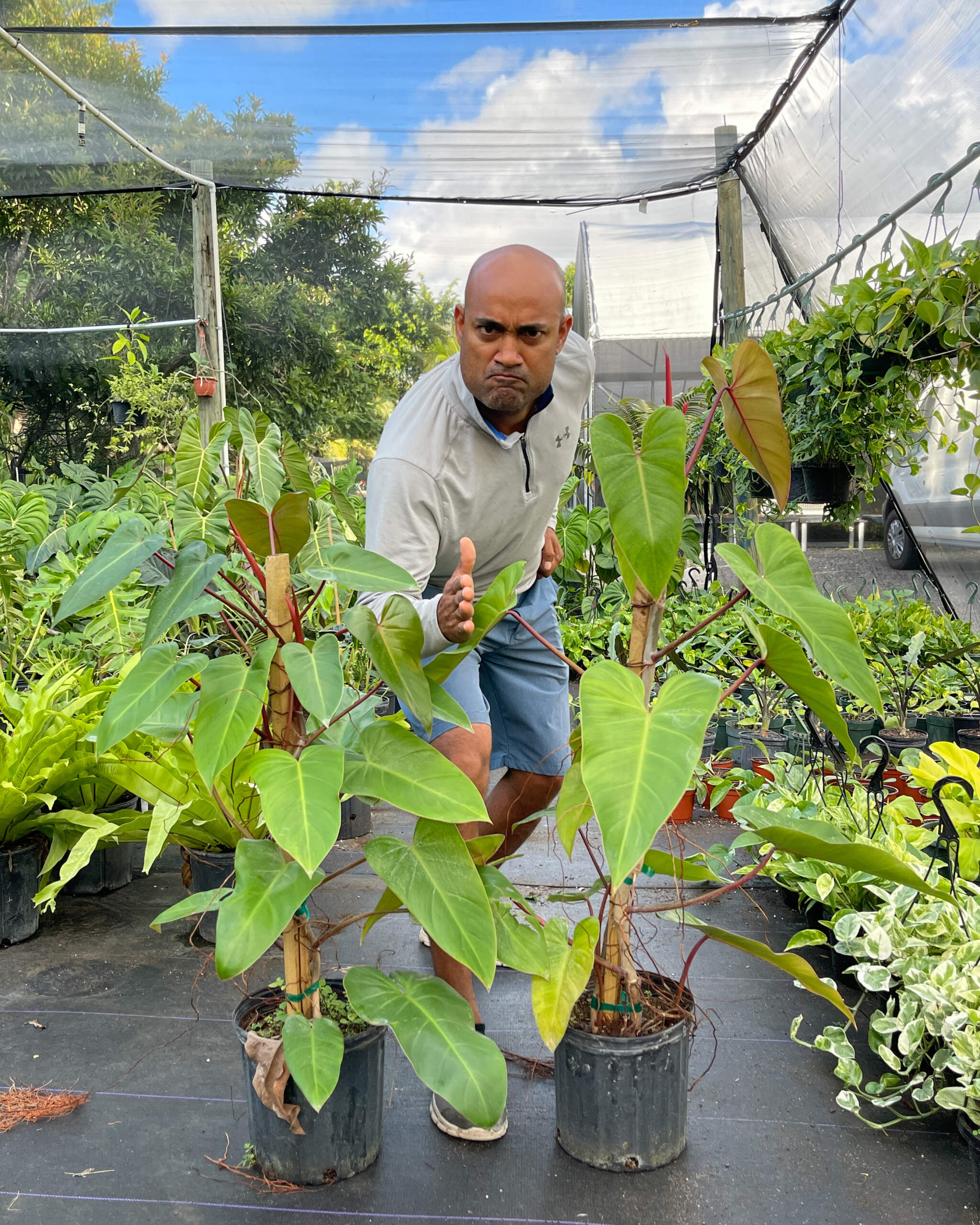 Philodendron 'Emerald Red' - 6ft Totem Pole - Specimen
Botanical Name: Philodendron erubescens
This beautiful climbing philodendron is a tried and true, yet hard to get houseplant known for its attractive red stems. It's originally from the jungles of Colombia and is sometimes called blushing philodendron. The heart shaped leaves with reddish undersides will instantly bring a lush tropical vibe to your home. Although they rarely flower indoors, if it does, be prepared for a gorgeous bright red bloom.
I have five beautiful totem poles ready to go.
Qty Available: 5
Size: 3-4ft Poles in 10" pots
$

125.00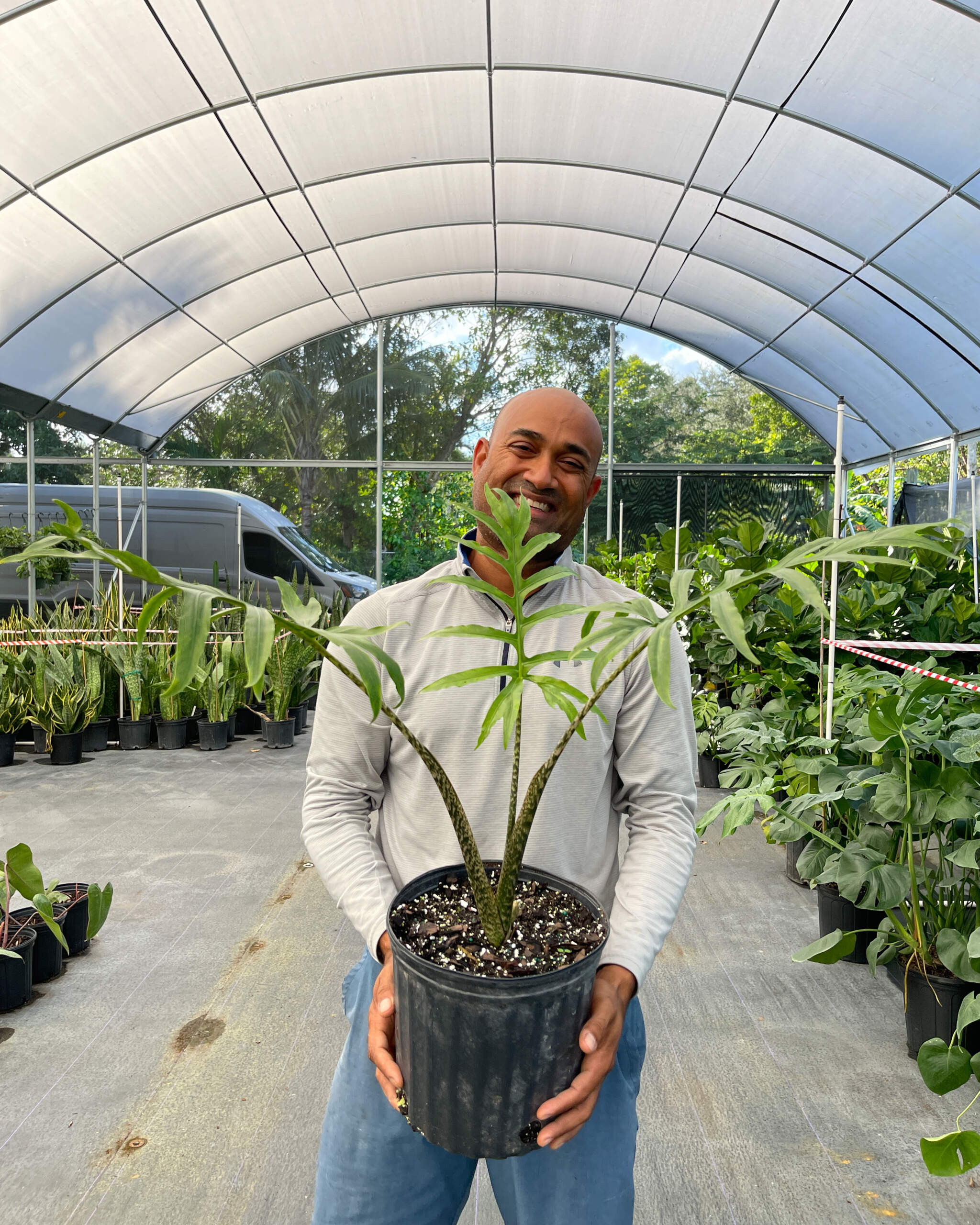 Alocasia 'Nishihira', Elephant Ear - Specimen
A very rare and unusual form of Alocasia Branchifolia. This is one of the few alocasia species that like to be a little more on the wet side. The deeply lobed leaves are supported by beautiful green stem with brown stripes. Whereas most alocasias are known as elephant ears, this looks more like a split leaf philodendron. There is not much known about this alocasia except that it's very very hard to find and very beautiful.
Qty Available: 4
Size: 2.5ft x 2.5ft in 10" pots
$

0.00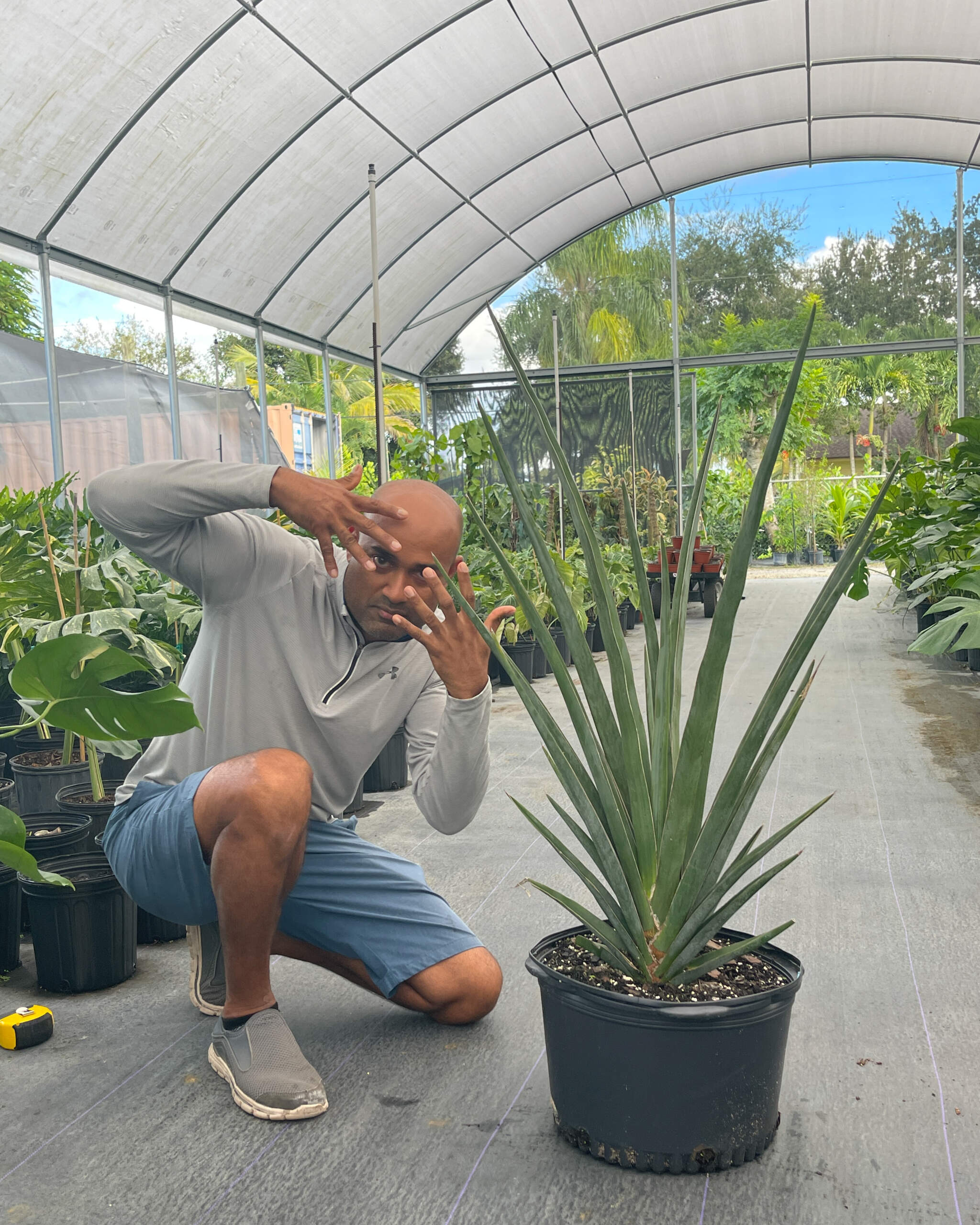 Sansevieria Flatline - Specimen - SOLD OUT
Botanical Name: Sansevieria Ehrenbergii Hybrid
Looking for a really unusual snake plant to add to your collection? This is a cool sansevieria hybrid which I've never seen before. It has long spikey leaves which grow in an attractive fan pattern. Flatline is a tall sansevieria which can get over 5ft tall! In fact these specimens are already 4-5ft tall. The growth habit is different from most large sansevierias which usually as single spikes. I'm not sure if I'll be able to get more of these anytime in the near future, so get one while they last. I know I'm keeping one for myself!
Qty Available: 4
Size: 4-5ft in 14" pots
$

185.00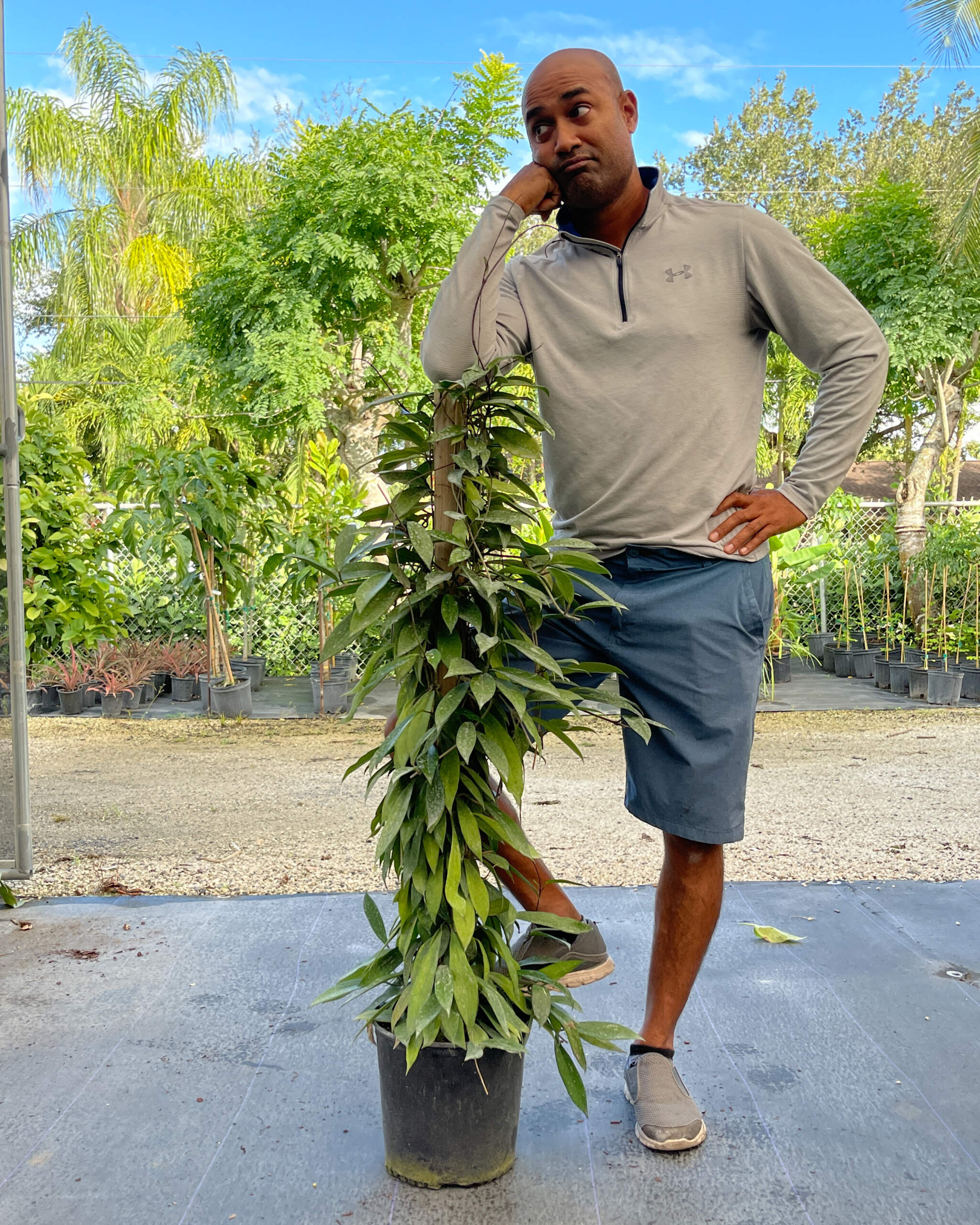 Hoya pubicalyx splash - Specimen, Totem
Native to Australia and Eastern Asia, this bushy Hoya has white specks on its foliage (hence the name). This cultivar has elongated leaves and is a vigorous grower. It produces gorgeous dense white to dark pink flower clusters. Hoyas are normally sold as hang baskets, but these poles are really unique and impressive. These are very mature plants which have been meticulously trained onto the totems. Leave them as they are or make a gazillion cuttings for your friends.
Qty Available: 3
Size: 4ft Totem pole in 10" pots
$

130.00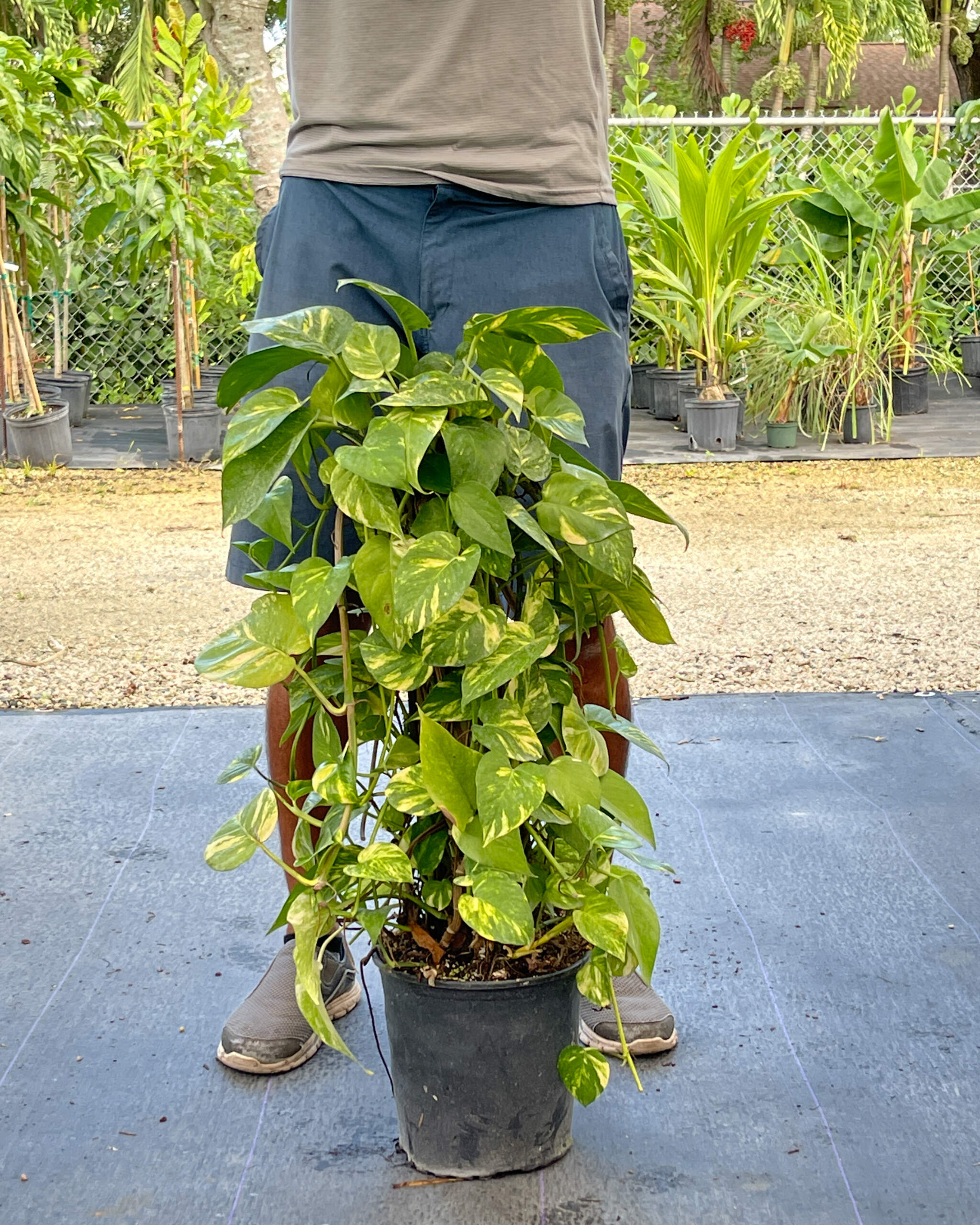 Golden Hawaiian Pothos – 3ft Totem Pole
Botanical Name: Epipremnum aureum
Golden pothos is one of the quintessential indoor foliage plants. Their bright colors, robust growth habit and never die attitude make it a must have for beginner and veteran plant parents alike. The bright yellow variegated leaves are typically about 4" long but left to climb up a tree or pole they can get up to 2.5ft in length! Pothos are climbers, attaching themselves to poles, walls or anything within reach of their roots; in fact, its genus comes from the Greek "epi" meaning upon and "premnon" meaning a trunk. These lush totems will add a tropical touch of sunshine to any space.
Qty Available: 2
Size: 3ft Totem Pole in 10" pot
$

75.00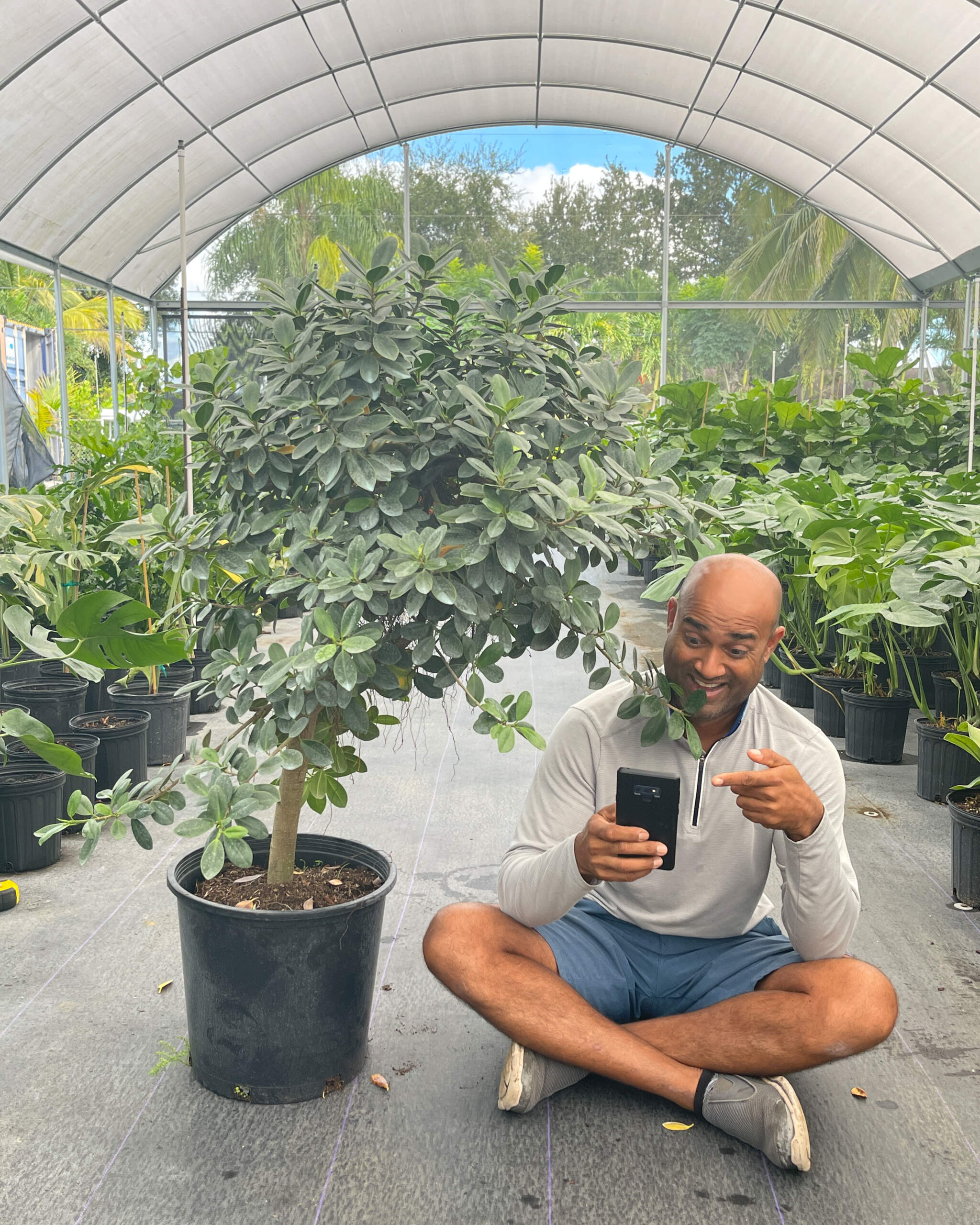 Green Island Ficus Bonsai Trees - Specimen - SOLD OUT
Botanical Name: Ficus Microcarpa 'Green Island'
How cool is this?! Green island ficus is typically used in South Florida as little dark green hedges, but these awesome specimens were trained over for years to become the coolest bonsai-looking trees. Green Island ficus is a slow-growing, dense and small shrub which makes it ideal for bonsai purposes. The attractive dark-green leaves are rounded and glossy. When the tree is mature enough, arial roots drop from the branches giving it a unique, Asian vibe. I found a couple of these HUGE babies at one of my favorite growers.
Qty Available: 2
Size: 4.5ft tall x 3ft wide in 14" pots
$

185.00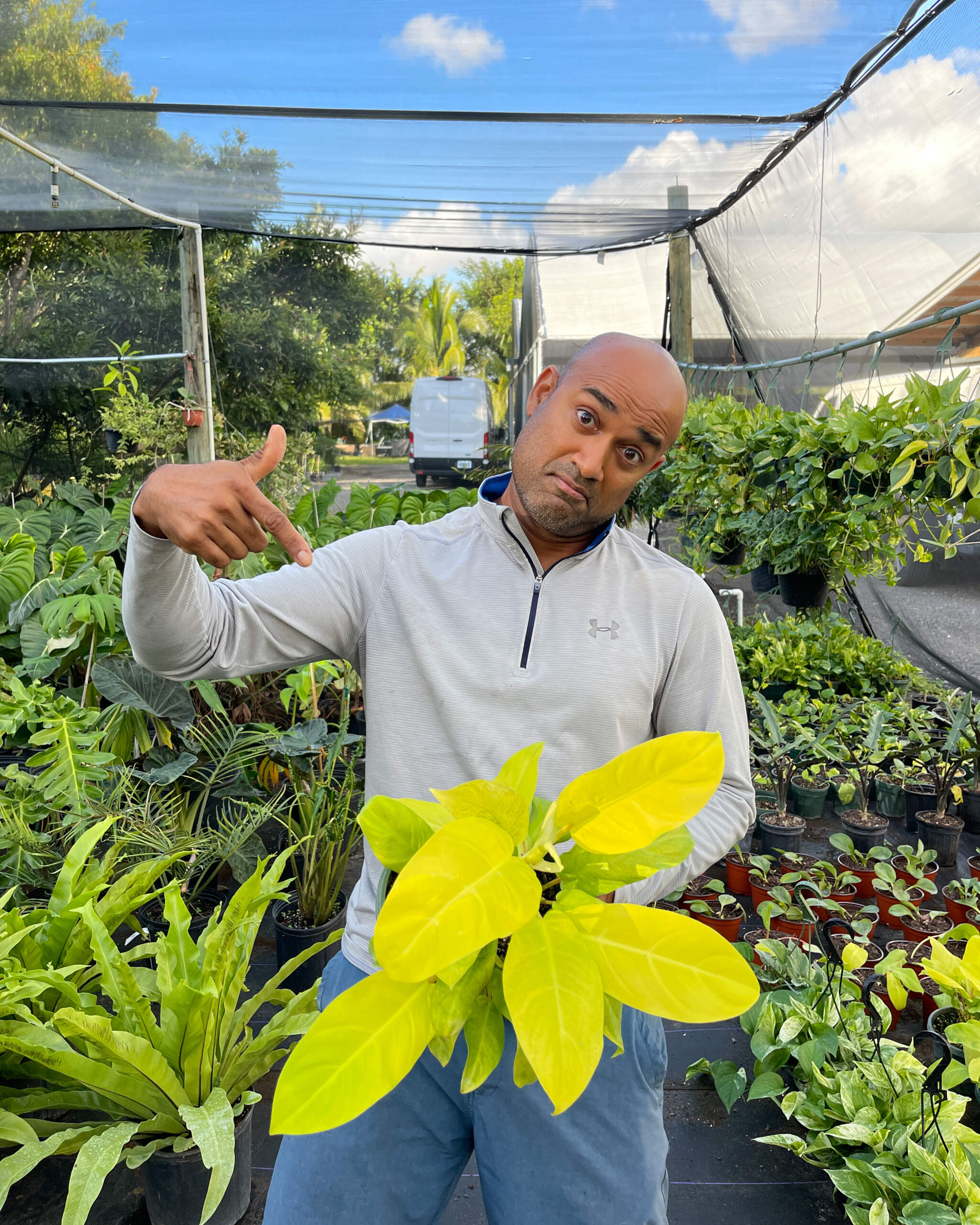 Darryl's Deal of the Day: Golden Goddess Philodendron - 50% Off - SOLD OUT
Botanical Name: Epipremnum giganteum 'Lemon Lime'
Also known as Lemon Lime Philodendron, Golden Goddess isn't actually a philodendron but is more closely related to a pothos. It is a stunning climbing plant with golden lemon-lime foliage. The striking foliage of this plant begs for attention and sets it apart from most other plants in the room. It can be grown as a trailer in a hanging basket, as a shelf plant or on a totem. Like most related plants, the leaves will grow bigger the higher up the totem it grows. For best color, give it bright light, but direct sunlight can burn the leaves.
Qty Available: 8
Size: 10" Pots
$

64.00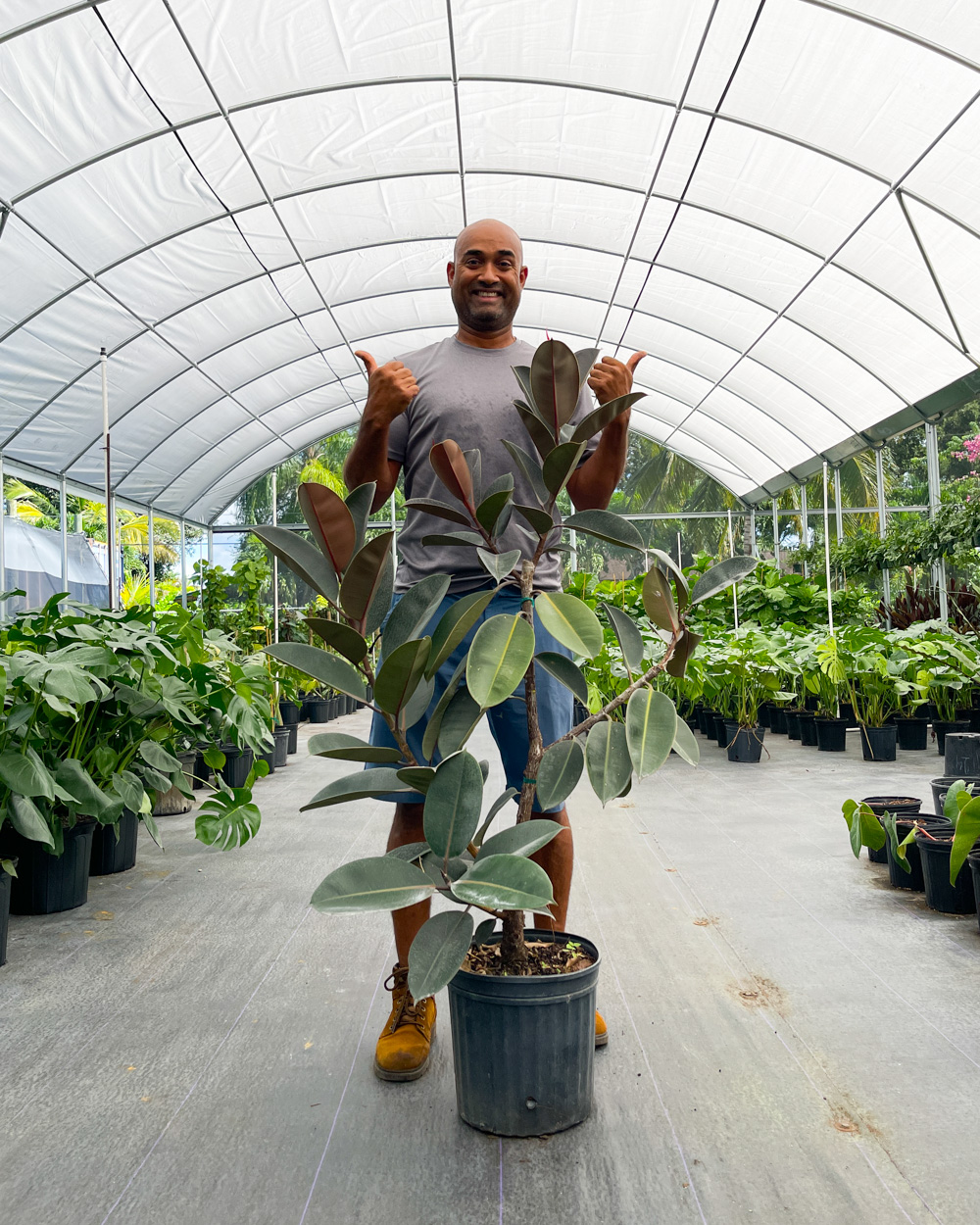 Ficus elastica 'Burgundy', Indian Rubber Plant - Specimen
Here's a neat find I ran into this year. Normally these Burgundy Rubber Plants are about two feet tall, but this leftover batch had plants which were over 7ft tall! It's funny how growers would consider these too big to sell when I see them as beautiful, instant gratification specimens. I took 5 of the best looking ones for you, trimmed them down and nurtured them back to glory. If you're looking for instant impact and were thinking about getting a ficus, jump on one of these giants!
Qty Available: 5
Size: 5+ft tall x 3ft wide in 14" pots
$

225.00
Join Darryl's Exclusive Email List!
Sign up to get notified via email as Darryl adds new rare finds to his collection.