Frequently Asked Questions
How do you ship live plants?
Once your order is placed we pick the largest plant available in your container size. Sizes vary at different times of the year, so we email you a picture of your plant before carefully packing and prepping it for its journey. Please visit our Shipping Information page for more information.
Where do you ship?
Standard ground shipping is available to all lower 48 states. Select products and plants may be available for two-day shipping. Shipping to California is limited to plants and products that have been certified to meet the state's certification requirements.
I entered the wrong shipping address, can I still change this?
Yes, you can. Please notify us within 2 hours of your order via our contact form or by giving us a call at 888-361-9998. In the event that your order has already shipped, reship costs are solely the customers responsibility.
I already placed my order but need add/modify plants on my order, can I still do this?
Yes, if you need to add/modify any plant(s) to your order, please give us a call or contact us here as soon as possible. If your existing order has already been picked, you will have to create a new order. Items cannot be cancelled once they've been shipped.
When will my order ship and arrive?
Most popular plants ship in 2-3 days. Our more uncommon plants can take up to 5 days to ship. Plants ordered with 2-day shipping usually ship in 1 day. Items are shipped from Florida and times vary by state. Please note that delivery dates for residential addresses is 7 days a week while delivery dates for business addresses is Monday – Friday.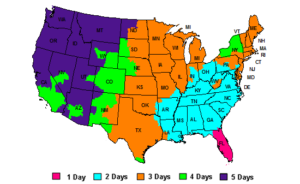 My products were damaged in transit, what do I do?
Upon delivery, we request that you inspect your plants thoroughly & notify us within 2 business days from the date of delivery of any damage during transit. (*Please do not discard of any product or packaging.) Click here to read about our 45-day guarantee.
What is your return policy?
Due to the nature of live plants, PlantVine does not accept returns on material. All PlantVine plants come with a 45-day guarantee. Read more about our guarantee here.
My plants have not arrived, what do I do?
If your order has not arrived, please check your tracking number to see where your package is in transit. If your tracking number states that your order has arrived but is not at your house, contact us here or call us at 888.361.9998 so that we can help locate your package. Have your order number ready so that we can assist you quickly.
I need to cancel my order; how do I do this?
We understand that sometimes things happen, as a courtesy we will provide a full refund on orders that have not been shipped yet. This excludes special orders and bulk orders which may incur a restocking fee after they have been picked.
Please call us at 888-361-9998 or contact us here as soon as possible to ensure that your order is canceled & properly refunded.
What is a Plant Grow Zone?
The Plant Hardiness Zone is determined by the USDA which specifies the standard by which gardeners & growers know which plants are most likely to thrive in their area. If you are planning to plant a plant outdoors, please ensure that the plant will thrive planted in the ground. If it does not grow in your zone, we suggest planting in a pot and bringing indoors to winterize during the colder months. 
I can't find the plant that I am looking for on PlantVine, what do I do?
We know searching for plants can be overwhelming. If you cannot find the correct plant that you are looking for, please contact us here or call us at 888-361-9998. *shipping & pricing may vary on larger sizes
Do you offer bigger sizes of plants?
We do offer a wide selection of plants and do have larger sizes available in certain circumstances, please contact us here or call us at 888-361-9998 to let us know what you are looking for. Shipping & pricing may vary on larger sizes.
How do I track my shipment?
With every order you will receive a separate order shipping confirmation email once your order has shipped that will display your tracking information. You can alternatively track your order with your order id and email on this page.
Why can't you ship certain live plants to my state?
Due to certain USDA regulations, some plants may not be available to ship to you. If we cannot ship to your state we will contact you and fully refund those items.
How much do you charge for shipping?
Free shipping on all orders over $125.
A flat rate of only $15 is charged for orders totaling less than $125.
Medium plants can also ship with 2-day shipping for $20 per plant.