Plants have become essential to our contemporary lives, whether we use them to decorate our homes, build gardens, or go on vacations to places with many plants. Did you know that plants can also improve our mental health?
In this post, we'll talk about how plants can affect our health and why including them in our everyday lives is the best thing we can do to improve our mental health.
Plants and Mental Health
Several research findings have shown that being around plants improves mental health. For example, a report from the Royal Horticultural Society says that having plants around can help us feel less stressed, anxious, and sad.
Plants make us feel calmer just by being around them; they also clean and improve the air by filtering it. Plants make the air fresher and cleaner by absorbing oxygen and carbon dioxide. This can make breathing easier, which is good for our mental and physical well-being.
Plants can also help us feel more connected to nature, which improves our mental health. Spending time in natural settings helps reduce blood pressure, pulse rate, and cortisol (the hormone responsible for stress). This effect can make you feel more relaxed, make you feel happier, and make you feel better all around.
How Plants Improve Your Home
You can add plants to your living area in many different ways. Examples are making quiet spots in your residence, interior decoration design firms, and building patio "oases."
Here are some more suggestions:
Vertical Gardens
These gardens are a great choice if you have limited space. They only take up a little room on the floor but still give you all the advantages of plants. You can make your community gardens or buy one.
Herb Gardens
If you want to bring plants into your living space, herb gardens are another great option. They add a touch of nature to your home, especially in the kitchen. In addition, herbs such as basil, thyme, and rosemary can give your food more flavor and help you feel less stressed.
Patio
If you've got a back garden or patio, you can turn it into a peaceful place to relax. Lavender, chamomile, and jasmine are all plants that can help calm your mind and body. You can also make a place to sit and add outdoor lighting to make it feel cozier.
Create a Corner in Your Home
Making a quiet corner is one of the easiest ways to bring plants into your living space. This is where you can get away from the stresses of everyday life and unwind.
Here are some ideas for making a quiet corner in your residence:
Choose a Quiet Place
Find a quiet place in your residence and away from other things that might distract you. It may be a corner of your sitting room, bedroom, or closet.
Add Some Plants
Putting some plants in your quiet spot can help make it feel more relaxing.
Make Cozy Seating
Add a beanbag or a comfy chair so that you can unwind.
Install Soft Lighting
Lamps or fairy lights that give off soft light can help make a room feel cozy and calm.
Include Mindfulness
To make your quiet corner even more relaxing, include mindfulness activities like meditation, deep breathing, or writing in a journal.
Decorate your Design Studio
Design studios are places where people can be creative and inspired to make incredible works of art. Adding plants to your design firm can make it a more creative place to work and make you feel more inspired.
Here are a few tips for putting plants in your design studio:
Select Low-Maintenance Plants
Choose plants that don't need much care or attention. This will let you work without worrying about taking care of plants.
Add Plants to Your Workstation
Putting plants on your desk, like succulents or tiny indoor plants, can help create a calm and inspiring environment.
Vertical Gardens
If your studio doesn't have a lot of floor space, consider building a vertical garden. This will not only give your space a touch of nature, but it will also give you ideas for your work.
Natural Light
Adding natural light to your studio can improve mental health. Plants do well in natural light and can help make your studio feel more relaxed.
Make a Patio Heaven
Patios are great places to unwind and can become a flower bed oasis. Creating an oasis on your patio can give you a place to relax and enjoy nature.
Here are some ideas for making a patio a peaceful place:
Pick Plants Wisely
Pick plants that do well in your patio's sunlight. Plants like succulents, herbs, and flowers are all great choices.
Add Seating
Add comfy chairs like a patio chair or chairs so you can sit back and relax.
Add Light
String lamps or lanterns can help create a cozy atmosphere outside.
Water Showcases
A fountain or tiny pond can help to create a peaceful environment in your patio oasis.
Include Natural Elements
Think about adding stones, gravel, or natural wood to give your patio oasis a more natural feel.
Bonus: Botanical Gardens and Vacation Spots
Visiting botanical gardens and vacation spots inside buildings can help your mental health. These places allow you to spend time in nature and escape daily pressures.
Plants in Medical Facilities
Researchers have found that having plants in hospitals suits the psychological wellness of patients, people visiting, and hospital staff. Plants can help create a calm and peaceful environment, making people feel less anxious and stressed in a medical setting. Plants are also known to make the air cleaner and quieter, which makes it easier for people to heal and get better.
Caring for plants can also give you a sense of intent and responsibility, boosting your self-esteem and making you feel less alone or helpless. Patients encircled by plants and greenery may also feel happier and more connected to nature, which improves their mental health.
People with ADHD remain calm in places and areas with greenery and plants. Overall, putting plants in hospitals can make them a more caring and healing place for patients and staff. This can help people heal and improve their mental health as a whole.
Key Takeaways
Stress and anxiety can go down when you spend time with plants.
Being near plants can make you feel better and lessen the signs of depression.
Indoor plants can make the air better, which can help people think better.
Trying to care for plants can make you feel more responsible and give you a sense of purpose, which can boost your self-esteem and make you feel less like you're not worth much.
Gardening therapy is a nature-based treatment that can help people with mental health problems.
Having plants at work can make people feel better and more productive.
People with ADHD can feel better when they garden and spend time in nature.
Visiting green spaces like parks and gardens can improve mental health and well-being.
Plants can help create a positive and relaxing atmosphere in hospitals and nursing homes where people get care.
Bottom line
Are you ready to elevate your indoor and outdoor spaces with beautiful plants? Look no further than PlantVine! Whether you're an experienced green thumb or a first-time plant parent, we have everything you need to create a heavenly feel for your home and garden.
From exotic tropicals to classic houseplants, our selection of plants is carefully curated to ensure maximum health and beauty. Our expert team is always here to offer advice and answer your queries. So don't wait any longer to transform your space and boost your mood with the power of plants.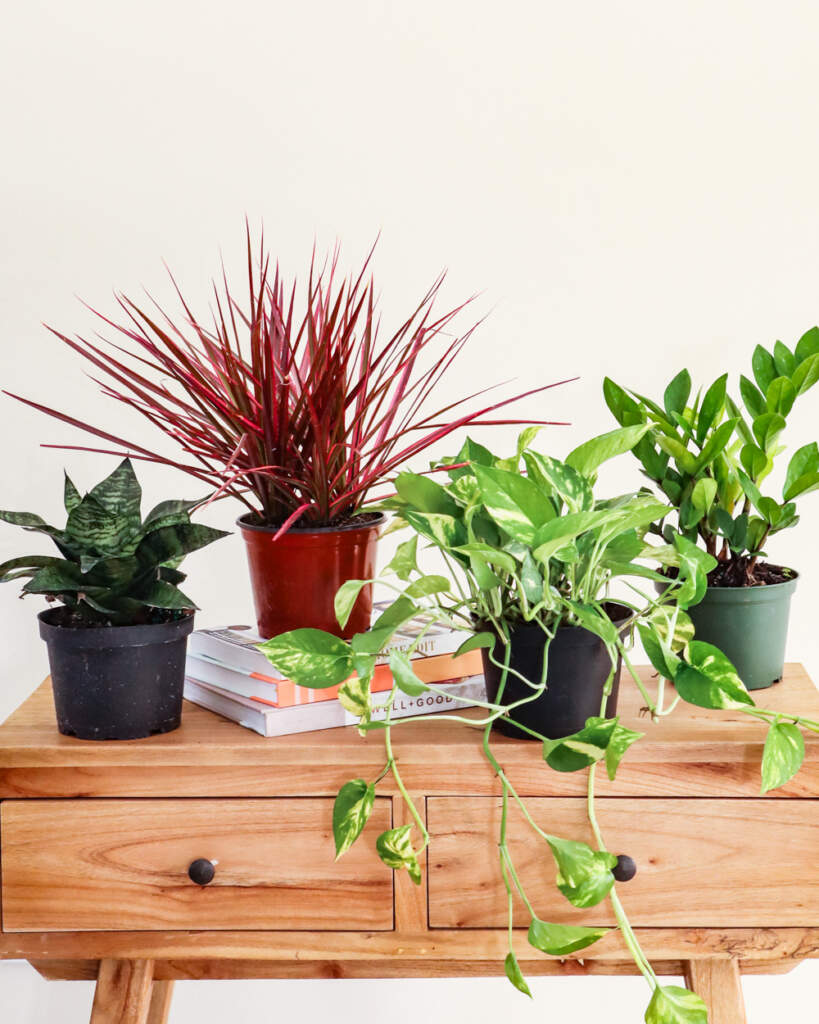 Beginner Plant Parent Box ($85 Value)
Our Beginner Plant Parent Box is perfect for any beginning plant parent! These four plants are extremely low maintenance, forgiving and hard to kill. Just unbox and watch them grow!
Plants included:
(1) Medium Sansevieria
(1) Medium Pothos
(1) Medium Draceana
(1) Medium ZZ Plant
*Plants are shipped in grower pots. Availability of plants may change due to seasonality and can be substituted for a similar variety without notice.