Our Top Holiday Gifts for Plant Lovers
Plant lovers -it's absolutely…ahem… unbeLEAFable how quickly the holidays are approaching!
Instead of fighting crowds at the mall, why not give a gift guaranteed to "plant" a smile on anyone's face…and give yourself a break? We're excited to announce our new Holiday  Gift Collection.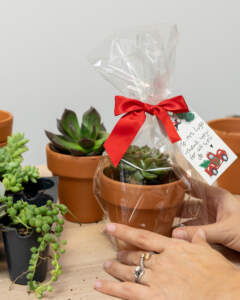 Up first: our new Succulent Holiday Assortment. Included are: six handsome succulents, carefully packed in their own boxes to protect them during transit; our organic soil blend; six 3.5" Italian Terracotta pots; plus cellophane bags, gift tags and satin bows. We're certain that when you give the Variety Pack to that special someone, they'll be thrilled – whether they're plant newbies or passionate gardeners. Or, if you need some smaller gifts, you can divide and conquer! Split the Variety Pack among multiple friends or family. Here's a thought, a succulent makes a creative gift for young gardeners, too. No time like the present to start a new hobby for a child you love. Taking care of a plant imbues the little ones with a sense of purpose, responsibility and pride. And, succulents are a great choice because they're so hardy. Shop Holiday Succulents >>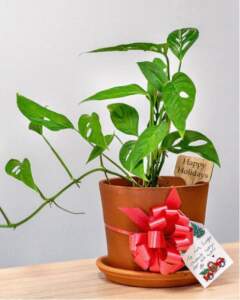 So, you're making your lists, checking them twice. We bet there are one or two folks on your list who've got you stumped. For those hard-to-shop-for friends, consider our Terracotta Potted Plant Collection. Designed in Italy, the neutral-hued pots offer a sophisticated counterpoint to the traditional holiday reds and greens. All the plants in the Collection include a Holiday Message stick, festive greeting tag, and satin bow. To complete the package, the lucky gift recipient will find our signature indoor organic soil blend and our PlantVine natural root stimulant. We've packed in all the elements for a memorable gift. Shop Holiday Potted Plants >>
Our Holiday Gift Collection is designed to help you minimize that dreaded holiday shopping frenzy. To ensure your gift will be one of the favorites under the tree, we meticulously hand-pick all of our plants, pots, and gifting goodies. Plants always bring a welcome breath of freshness. Naturally, they'll be a much appreciated gift – while you'll appreciate the convenience. All of us at PlantVine hope you will enjoy every minute of this holiday season.