How to Create a Showstopping Planter Arrangement
Take a quick look at your porch or patio.
Wouldn't a new container arrangement really add some impact out there?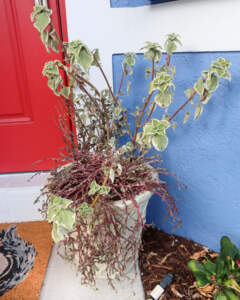 It's not hard to spruce up the area, but maybe you've been a bit worried about your success. Perhaps past experiences have made you doubt your green thumb? Fear not! Even if you're a plant newbie, we've got you covered. Read on….
When plotting out a new arrangement, whether it is to feature flowering plants or just greenery, it's important to remember there is no right or wrong plant combination. Your new arrangement should reflect your personal preferences and style.  Here are six simple steps to create your own lush and lovely container arrangement.
Choose a Pot that Inspires YOU
Start simple. With endless pottery options in a wide range of shapes and sizes, you're sure to find a pot that fits your space and your vision. Be sure to choose a planter with a bottom drainage hole. This will help prevent overwatering.
Plan with Bold Color
When developing a flower-filled planter, think color…and don't be afraid of going bold. You may want to think about the season, and pick a complementary color scheme.
Thrill, Fill, & Spill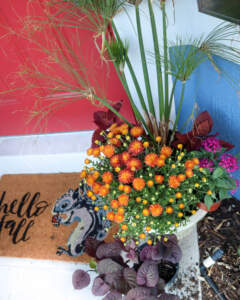 With your color palette in mind, it's time to determine the perfect mix for your planter. Just remember these three little words:  Thriller, Spiller and Filler.
Thriller: This should be your container's main attraction. The perfect plant should stand tall in the back/center of your planter. It is best to pick your "Thriller" first and build around it. Examples of thrillers: Egyptian Papyrus (Cyperus papyrus) or Purple Fountain Grass (Pennisetum setaceum 'Rubrum').
Spiller: Here we're referring to a trailing plant that spills over your container as it grows. Your Spiller can be boldly colored, like a Sweet Potato Vine.
Filler: Time to fill in. Adding plants around your "Thriller" and "Spiller" allows you to fill up your container and visually tie your arrangement together. Add simple drops of color through flowering plants, or even add something edible, like Rosemary. Examples of fillers: Coleus, Pentas, and, Lantana.
(*When choosing your Thriller, Spiller and Filler, make sure to consider what lighting conditions your container will receive. Will the spot receive full sun? Partial shade? Varying light conditions must be considered as you pick your plants.)
Time to Plant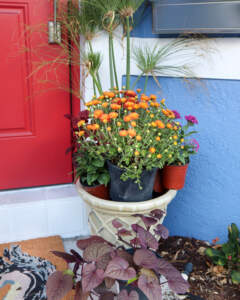 After purchasing your plants, it's time to assemble. Make sure you've chosen a high quality, organic soil, such as our PlantVine Organic Potting Soil. The right soil is crucial to ensure the plant receives proper nutrients and will have good drainage.
Step 1: Fill the planter halfway with soil. (Remember you'll be adding multiple plants to your pot, so don't overfill.)
Step 2: Before removing your plants from their original containers, do a mockup of how you want to arrange your plants. Simply place the plants inside the container to determine your "layout."
Step 3: After deciding upon your preferred planting arrangement, it's time to plant! We always suggest starting with the main attraction (Thriller) first, and then build around it. When you first "unpot" your plant, make sure to shake away the excess soil to reveal the roots. Then place the plant in the new container. As you fill everything in, you may decide you've purchased more plants than you actually needed. No worries, this happens all the time. Think how lovely that "extra" plant will look on its own in another spot.
Step 4: Once you're happy with the placement, add more organic soil to the container to firmly pack in your arrangement.
Some Advice on Watering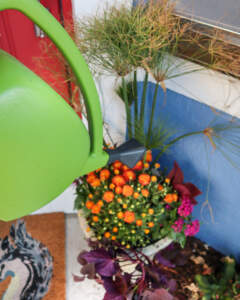 After you're done arranging, remove any excess soil. Then, water each plant to begin establishing the plant in its new container. Developing a healthy watering schedule is key to the longevity of your arrangement. For a step by step guide on essential watering tips, Click Here >>
Enjoy!
As you admire your gorgeous new planter, we'd love to see your new creation and share it with our community of plant lovers. Get out that iPhone and snap a few. Please tag us on social media @plantvine. Congrats, you are on your way being a Green Thumb Legend!
(Please note: As your arrangement establishes itself, it is not unusual to experience some plant loss. Should this occur, simply remove the dead plant and replace it with something fresh and new.)