Houseplants Add Beautifully to Your Fall Decor
At last, the long, hot summer is behind us. We welcome the cooler temperatures of fall, while we begin to contemplate upcoming holiday festivities.
It's a great time to think about ways to incorporate some cozy fall colors into your home. We're here to help! Our new collection of hardy houseplants will add that special splash of fall hues: the rich reds, plums, purples and deep greens that signal autumn's arrival.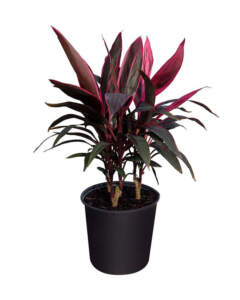 With its dark purple leaves accented in pink, this Ti Plant makes a glorious addition to your harvest home. It can provide a strong contrast to a darker wall, while conjuring up a bit of the tropics. Easy care, they prefer bright, direct light and medium amounts of water. See more >>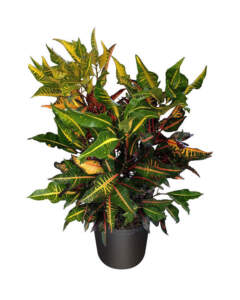 Colorful multi-hued foliage makes the Croton a popular choice this season. If you're having guests over, imagine the Croton's dark colors as an exquisite and unexpected centerpiece on an autumn dinner table. Make sure to water regularly, and to place the plant in a spot where it will receive bright light. See more >>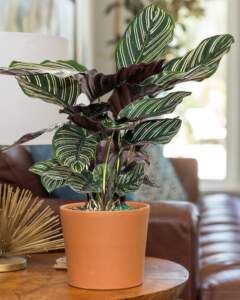 With several varieties to choose from, you're sure to find the perfect Calathea in warm autumn shades. From the spotted foliage of the Rattlesnake to the dark elegance of the Medallion, these low maintenance beauties are known for their colorful inflorescences.  They thrive in direct light and soil that's kept moist. See more >>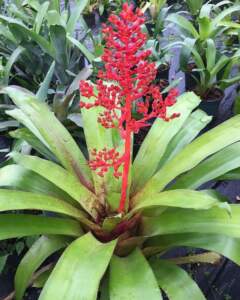 The bold flowers of the Bromeliads bloom in vibrant shades of orange and purple. Indoors, they work as effective air purifiers. Hardy and handsome, they'll thrive with minimal care and water. See more >>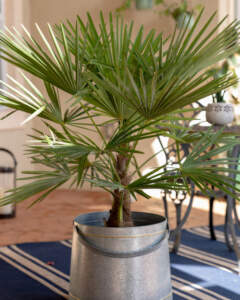 The best palm for fall! This cold hardy palm can weather the cooler temps on your patio. Its unique fan-like fronds add fabulous texture to any room or porch. See more >>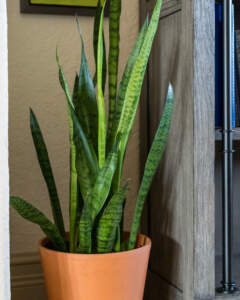 No matter what time of year, the Snake Plant is always a smart choice. They earn the title of "The Perfect Houseplant" each and every day. They work tirelessly to purify the air; you can neglect them for a bit; and they always look fresh. Place them in any empty corner, and they'll make that space look complete. We love AND appreciate them, and feel confident you will, too. See more >>
We're sure you'll agree fall is a wonderful time of year. We want to stress there's no need for your green thumb to go into hibernation. Bringing your plants indoors – or adding to your indoor collection – makes your home more relaxing – and more beautiful.